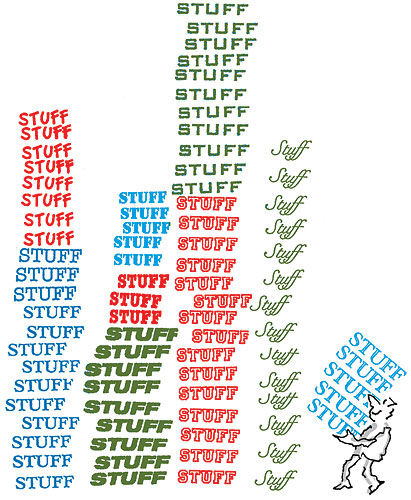 In today's New York Times Sunday Book Review, the psychiatrist Peter D. Kramer reviews Stuff: Compulsive Hoarding and the Meaning of Things (Houghton Mifflin), by Randy O. Frost and Gail Steketee. His conclusion:
To those who need to understand hoarders, perhaps in their own family, "Stuff" offers perspective. For general readers, it is likely to provide useful stimulus for examining how we form and justify our own attachments to objects.
"Useful stimulus" — ho-hum. When our own Rob Walker wrote about the A&E reality show Hoarders in December 2009, he was much more direct, even confrontational:
The scariest reading of "Hoarders" is that these freakish piles of stuff it documents simply reflect what plenty of us consume as a matter of course; our ability to dispose of the evidence properly is what makes us normal. "The line between the people on our show, who have very severe cases of the disorder, and, you know, most of the population," ["Hoarders" producer] Sharenow says, "is kind of thin."
Ninth in an occasional series.