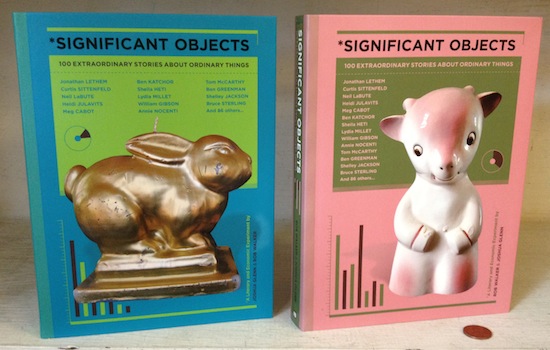 Significant Objects, a literary and anthropological experiment devised by Rob Walker and Joshua Glenn, demonstrated that the effect of narrative on any given object's subjective value can be measured objectively.
The project auctioned off thrift-store objects via eBay; for item descriptions, short stories purpose-written by over 200 contributing writers, including Meg Cabot, William Gibson, Ben Greenman, Sheila Heti, Neil LaBute, Jonathan Lethem, Tom McCarthy, Lydia Millet, Jenny Offill, Bruce Sterling, Scarlett Thomas, and Colson Whitehead, were substituted. The objects, purchased for $1.25 apiece on average, sold for nearly $8,000.00 in total. (Proceeds were distributed to the contributors, and to nonprofit creative writing organizations.) All the project's stories are archived on this site.
Glenn and Walker are now pleased to announce that a collection of 100 of the project's finest stories has been published by Fantagraphics in a highly impressive volume, masterfully designed by Jacob Covey. It is available now via Powell's, Amazon, B&N, or wherever finer books are sold. 
Follow the latest news and other interesting notes on objects, stories, and value at significobs.tumblr.com. We're also on Twitter, and Facebook, and sometimes we even post in the news section of this very site!