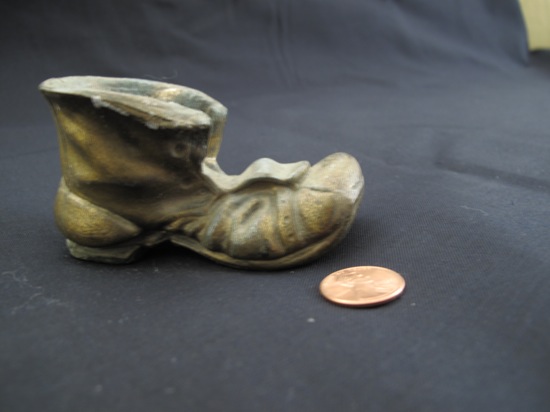 [The auction for this Significant Object, with story by Bruce Sterling, has ended. Original price: $3. Final price: $86.]
In early 1861, before the Union blockade closed the port of New Orleans, four ships arrived from distant Naples. They bore eight hundred and eighty-four Italians, soldiers under the command of a little-known Louisiana adventurer: Captain (later Major) Chatham Roberdeau Wheat.
Captain Wheat and his troops abandoned their ships in port. They promptly enlisted in the new-formed Confederate Army. Wheat's exiles formed the core of the 10th Louisiana Infantry Regiment. They came to be known as the "Louisiana Tigers." These exiled Italians fought bravely through some of the bloodiest combats of the American Civil War. Simple, superstitious men from rural Southern Italy, most of them had never seen modern rifles, railroads, artillery or even printed newspapers. In four years of unrelenting, savage struggle, almost all of them were killed. Major Wheat himself fell at the Battle of Cold Harbor, sword in hand.
Yet the men Wheat led to war were — very curious to say — his own sworn enemies.
Giuseppe Garibaldi's Red Shirts — the famous "One Thousand" — were global wanderers and political exiles. Chatham Roberdeau Wheat, already a battle-hardened adventurer, was a volunteer captain within Garibaldi's force. In May 1860, arriving on three ships, the Red Shirts boldly invaded Sicily. By methods still somewhat mysterious, this tiny group of armed conspirators overthrew one of the largest armies in Europe.
When Wheat returned from his Italian victory to his native New Orleans, he brought with him eight hundred of the soldiers defeated by Garibaldi. How was this feat possible? These soldiers were Bourbon loyalists from the "Kingdom of Two Sicilies." Pious and deeply conservative, they despised Garibaldi and they resented Italian unification. We know of no reason for them to love Roberdeau Wheat. Yet these defeated soldiers abandoned their newly unified country. They crossed the Atlantic and fought bitterly to divide America. Why?
Furthermore, it is a stubborn fact that Wheat and his Italians left Naples well before the American Civil War broke out. Four ships, with almost a thousand stateless wanderers, still in their royal Bourbon uniforms, with flags and guns, were at sea before Fort Sumter was fired upon. Again, why?
Historians dismiss Roberdeau Wheat as an obscure adventurer: a mercenary, a Mason, and a mystic. Yet we know that a young Wheat was present in Veracruz, Mexico in November 1845, just before the outbreak of the Mexican-American War and the US naval invasion. We also know that in August 1851, the restless Wheat invaded Cuba with the Narciso-Lopez Expedition. This little-known island invasion — a filibuster by a thousand exiles — failed quickly and bloodily. However, the Narciso-Lopez invasion of Cuba was, tactically, almost identical to Garibaldi's successful invasion of Sicily, ten years later.
We do not know how Wheat transformed his Italian enemies into his fiercely loyal followers, apparently overnight. We do know, as a historical fact, that Roberdeau Wheat distributed certain tokens to the men, just before they embarked from Naples. Those tokens were small brass boots. Every man who joined the Wheat expedition received one of these boots directly from Roberdeau Wheat's own hand. The men wore the boots on their persons. What were these tokens, what was their meaning? Some Masonic recognition symbol — perhaps an aid to prayer, chained to a rosary? Given Wheat's Louisiana origins, they may have been voodoo charms.
The tokens are clearly modeled on some real and actual military boot, a boot hard-worn by much travel. Yet the talismans do not match the boots issued by any known military force. Today we know of four surviving "Tiger Boots," treasured by Civil War militaria collectors. The rest, of course, are long since lost to history, buried with the men who fell. There can never have been more than one thousand of them. Finally, from a last daguerreotype, we know that Major Chatham Roberdeau Wheat wore boots of precisely this kind. He died in them.