IN THIS POST: Bruce Sterling, Todd Levin, Susannah Breslin, Ben Greenman, Marisa Silver.
This is the twentieth installment in a series of twenty posts announcing — in no particular order — which 100 stories will be collected in the Significant Objects book (forthcoming in 2011 from Fantagraphics).
***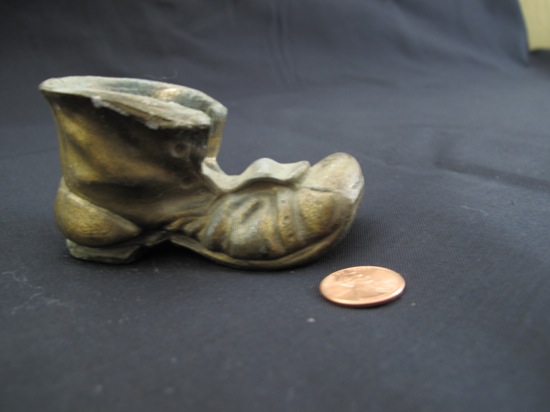 96. Bruce Sterling's METAL BOOT story. Excerpt:

We do not know how Wheat transformed his Italian enemies into his fiercely loyal followers, apparently overnight. We do know, as a historical fact, that Roberdeau Wheat distributed certain tokens to the men, just before they embarked from Naples. Those tokens were small brass boots. Every man who joined the Wheat expedition received one of these boots directly from Roberdeau Wheat's own hand. The men wore the boots on their persons. What were these tokens, what was their meaning? Some Masonic recognition symbol — perhaps an aid to prayer, chained to a rosary? Given Wheat's Louisiana origins, they may have been voodoo charms.
***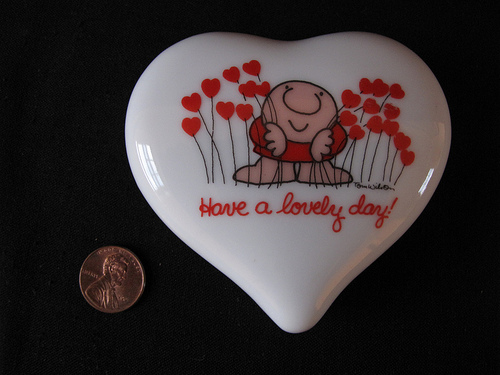 97. Todd Levin's ZIGGY HEART story. Excerpt:

Mary Eileen's supply of M&Ms was seemingly bottomless. She even found M&Ms in special colors around the holidays — an act in which I'm sure she took some kind of near-erotic pleasure. And whenever — seriously, whenever — you'd swing by and grab a few pieces of candy on the sly, Mary Eileen would unfailingly say, "Treat yourself!" That word — "treat" — from her lips was like an iron file dragging against the edge of my front teeth. The works, from Ziggy vaguely threatening me to "have a lovely day!" to the pink and red M&Ms on Valentine's Day, to Mary Eileen's matronly invocation, all seemed calculatedly designed to make me feel infantile.

And I guess that's why I stole that Ziggy paperweight. I emptied the bowl of M&Ms into my backpack, too. An appropriately infantile act I suppose. But why should she have that power over me? And why can't Mary Eileen find a means of happiness that's, I don' t know, grown-up? She never once complained — not formally, anyway — and it's been stashed in my desk, M&Ms and all, for I don't know how long.
***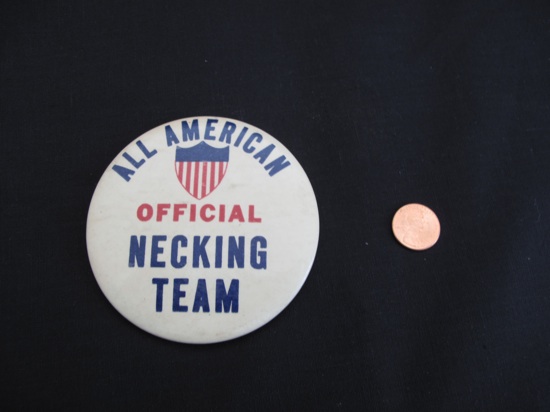 98. Susannah Breslin's NECKING TEAM BUTTON story. Excerpt:

I imagined my father had won his place on the All-American Necking Team sometime during 1953, his senior year at Brooklyn Preparatory. I knew what he looked like back then from photographs: a young man with deep-set eyes undershadowed by dark circles, his long form gangly with the awkwardness of his youth, a thin tie knotted at the base of his bird-like neck. Once, my mother had told me about his penchant for drinking Zombies, about the time in the middle of a party, he had proclaimed, "I'm a tree," and then fallen flat to the floor, how she had stolen him from another woman older than her, who had a child — and in the remembering, my mother had smiled. But that summer, his father, my grandfather, a frustrated CPA with a roaring temper fueled by an abiding love of Four Roses and the failures of the Brooklyn Dodgers, had fallen dead of a heart attack while taking the IRT subway to work one day, and my father's life had changed forever.
***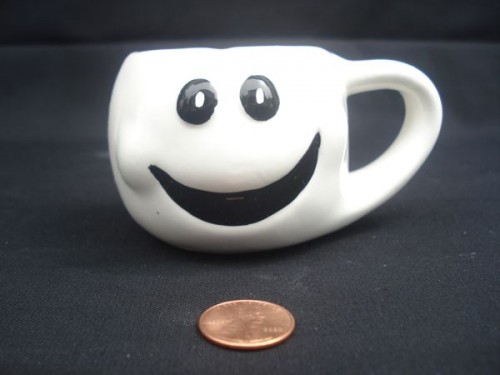 99. Ben Greenman's SMILING MUG story. Excerpt:

This object is best known from its appearance in the 1939 film No News From The Navy, a comedy starring James Wilton as a hapless midshipman who cannot set aside his seafaring ways, even when he is confined to dry land as a result of an injury. Wilton's character (who is called, simply, "Sailor") competes for the affection of a young woman named Evelyn (Mary Hannan) despite the opposition of her father (Gordon Howard) and a larger, determined suitor (Kenneth Lopp). The film is a second-tier comedy, but there is one classic scene in which Sailor shaves before taking Evelyn out on a date. He is clearly accustomed to shaving aboard his ship, and as a result, he is constantly attempting to regain his balance, despite the fact the floor is level and stable. The critic Leonard Folsom has written that "The unheralded Wilton has a scene that combines the physical complexity of a Chaplin solo with close-ups of inexpressive expression that rival the finest moments of Keaton." At the beginning of that scene, Wilton uses this smiling mug as his shaving mug, and while he sets it on the shelf above the washbasin midway through, it remains, as Folsom writes, "an oddly compelling focus of the film so long as it is onscreen, enormous in its diminutive size, menacing in its cheer."
***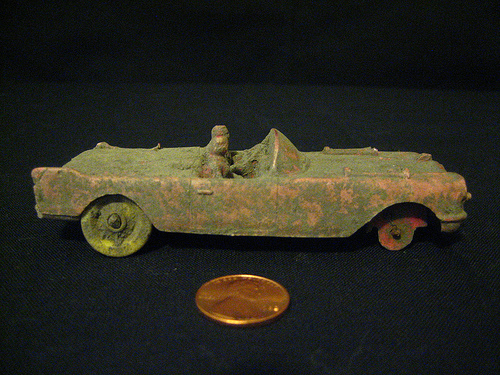 100. Marisa Silver's TOY CAR story. Excerpt:

The fourth time I went to take the test, my brother gave me one of his toy cars for good luck. My dad had bought him the car, telling him it was the same model as the first car he'd ever owned. The car was pink and my brother had tried to paint it over, but he didn't have the right kind of paint so the car ended up looking like a school bathroom. I put the car in my pocket, turned off my brain, and took the test. I passed. I made no mistakes at all. By this time my parents had split up and my aunt was waiting for me in the waiting area because my mother had started back at her old job selling perfume at the department store. I kept my brother's car all these years, even though the wheels have broken off and gotten lost, and it is so derelict even my own kids won't play with it. It reminds me that even if you look down the road to catch a glimpse of your future, there's not much you can avoid.
***
MORE NEWS: For updates about the Significant Objects project and forthcoming (Fall 2011) collection, visit the archive and subscribe via RSS. For Author Updates, visit the archive and subscribe via RSS. Also: Check out the Significant Objects Bookstore!