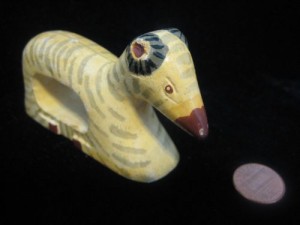 The wooden animal (above) about which Meg Cabot wrote for us has changed hands, Cabot reports from the LA Times Book Festival. In the process, she says, the object has helped raise a bunch of money for the Heifer Project. Here's the scoop:
A lovely reader named Shevonne was outbid on my Significant Object… by my mom (who technically shouldn't have even been bidding since she's a relative. But then, you know Moms.)

Later we learned that even though she hadn't won, Shevonne had donated the money she would have spent on the object to the Heifer Project anyway (where I had promised to donate, and match, any winning bid. So the Heifer Project got three times what the Significant Object ended up selling for).

We were so touched by Shevonne's gesture that my mom sent the object to Shevonne, along with a little Mom-like note. Later I also sent Shevonne a signed book.

I had almost completely forgotten about the whole thing until this cute girl showed up at the signing last night and plunked down this funny looking cow thing in front of me.

I was like, "Wha…?"

And she was all, "I'm Shevonne!"

Below: Meg Cabot (center), Shevonne (on Cabot's left), and friends.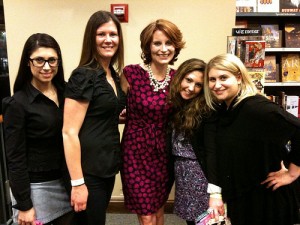 By the end of SO v3, we will have rescued 200 insignificant objects from thrift stores and yard sales and sent them out into the world with new significance. I hope their owners will keep us updated!