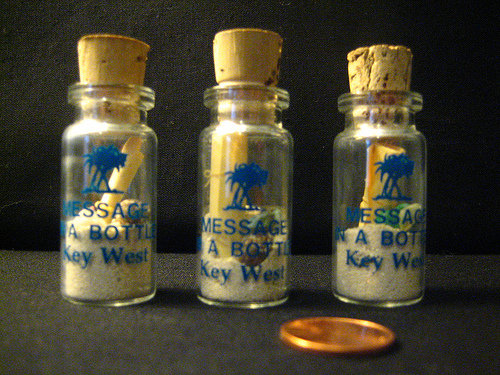 Readers, we are nearing the end of Significant Objects v3, with proceeds going to Girls Write Now. If you have somehow not yet become the owner of your very own Significant Object, get with the program. Time is running out.
We bring things to a close this week, with something we've wanted to do for quite some time. People have asked us: "What if you got two writers to invent different stories about the same object?" "That sounds cool," we have replied, "but then how would we sell that object twice?" Finally the answer to this riddle arrived with the serendipitous discovery of some identical objects. (While identical objects are routine in regular retail settings, they are rare at thrift shops and yard sales.)
And as you've no doubt deduced simply by gazing at the picture above, we have lined up not two, but three writers who have each invented a unique story for one of these identical little bottles. Yes. Those writers are Wesley Stace, Maaza Mengiste, and Ben Greenman. Are we in effect pitting these talented authors against each other, unfairly asking the eBay marketplace to in effect pass judgment on their stories? Well, it's possible that we might be doing that, yes, but it's for a good cause. So bid like crazy on all of them.
The first of the stories in the Identical Object Challenge appears tomorrow. We hope you, too, will find this to be a fitting conclusion to v3.
Thanks again, readers, for all your help and generosity with Significant Objects.