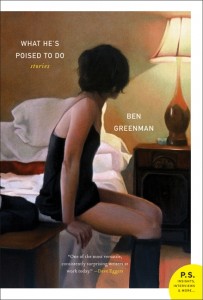 Dear Significant Objects Readers and Prospective Significant Objects Buyers,
My new book of stories, What He's Poised To Do (Harper Perennial, June 20), is about letters and letter-writing. In the stories, people use letters to embrace other people, or to keep them at arm's length, or to express reality, or to evade it. Letters are highly significant things in each and every story, from a series of devotional pieces a young Cuban writes to the woman he loves (in a story called "Hope") to letters a young man sends to his sad mother (in "17 Different Ways to Get A Load Of That").
Given the letters and the significance, I thought it would be nice to combine the two and curate a week of Significant Objects with a letter-writing theme: objects accompanied by stories in the form of letters.
Once I had the idea, I set out to find a cause. I have published a story in the great literary journal OneStory (it was called "The Tremulant," is now called "The Hunter and the Hunted," and is in the new book), and so it occurred to me that the money collected from this round of Significant Objects should benefit OneStory, and that the stories would be written by writers who have also published in the journal. The five I contacted all said yes, heartily: they are Irina Reyn, Terese Svoboda, Scott Snyder, James Hannaham, and Joe Meno.
The week of OneStory/Significant Objects collaboration will culminate in an event June 21 at Greenlight Bookstore in Brooklyn. In theory, it is a launch party for "What He's Poised To Do," but I am hoping to minimize the part where I read and maximize the part where other people tell you about interesting projects they are spearheading. Jonny Diamond, of the L magazine, will read. Nicki Pombier Berger will speak about Underwater New York. Todd Zuniga, of Opium magazine, will read from Paris with the help of Fancy New Technology. And the actress and performance artist Okwui Okpokwasili will read James Hannaham's Significant Objects
story, as Mr. Hannaham is indisposed that evening. Details here.
So, you know the drill. We will post an object each day, accompanied by a story by a OneStory writer. Objects will be on auction for one week. If you win, you will receive the object and the story.
And given that this is series of letters, we've made a special arrangement with some of our contributors — those stories, where noted, will actually be mailed to you by the writer.
Go to Town,
Ben Greenman