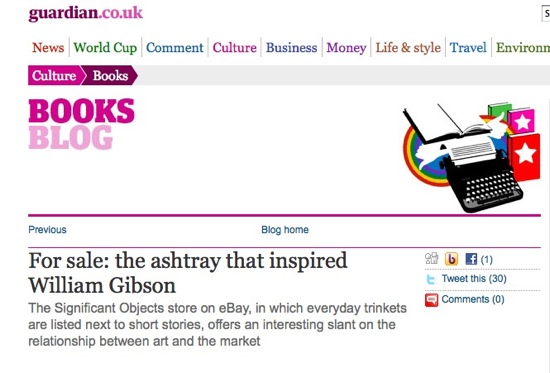 At the Guardian's books blog, Alix Rayner runs Significant Objects through Kantian Critique of Judgment filter before deciding that what we're doing is perfectly OK. Excerpt:
Ad man turned novelist F Scott Fitzgerald declaimed advertising as having contributed "exactly minus zero" to human endeavour around the same time Ernest Hemingway is supposed, perhaps apocryphally, to have penned a six-word short story in the form of a small ad: "For sale: baby shoes, never worn." Dorothy L Sayers, Fay Weldon, Don DeLillo, Salman Rushdie and Ogden Nash all served as copywriters before turning to more serious writing. Indeed, ad campaigns may have asserted peculiar forces on the Booker. Surely Indra Sinha's award-winning copywriting work for Amnesty International and the Bhopal Medical Appeal must have fed into his Booker-shortlisted 2007 novel, Animal's People?

Still, few continue their marketing careers after bestseller success, and despite all this common ground, it's hard to accept Significant Objects' stories as genuine ad copy. The charm of the listings is that they never attempt to be anything other than fiction. No buyer believes that the ashtray featured in William Gibson's entry truly did come from a friend's dad in the military, and so readers enjoy the quality that Immanuel Kant ascribed to all aesthetic judgments: disinterestedness. It might sound like an obscure point, but Kant argues that the beautiful must be pleasing on its own account. "One must not be in the least prepossessed in favour of the real existence of the thing," he writes in the Critique of Judgement (1790) "but must preserve complete indifference in this respect, in order to play the part of judge in matters of taste."

Would Kant say that, in order to truly aesthetically appraise a story about a rabbit-shaped candle, you cannot simultaneously be materially interested in a rabbit-shaped candle? I don't think so. But if the story made genuine, material claims about a specific candle, then I think this would reduce its artistic merit.

These are fine sentiments to consider in an age when an increasing amount of creativity appears to be being underwritten by marketing budgets. The fun thing about Significant Objects is that it seems to get artists to do the marketing while keeping their aesthetic disinterest intact.
Phew!