IN THIS POST: Tom McCarthy, Nathaniel Rich, Merrill Markoe, Matthew De Abaitua, and Matthew Battles.
This is the sixteenth installment in a series of twenty posts announcing — in no particular order — which 100 stories will be collected in the Significant Objects book (forthcoming in 2011 from Fantagraphics).
***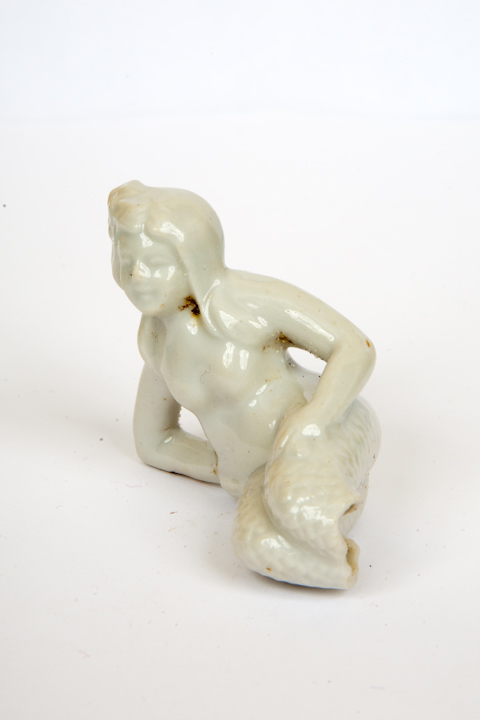 76. Tom McCarthy's MERMAID FIGURINE story. Excerpt:

1. Pollution of coastal waters can have / the black sun of melancholy / signature of all things I am here to / test for indicator organisms such as / Love or Phoebus, Lusignan or Biron / based on weekly or fortnightly water sampling

2. The beach zone is modeled as / the grotto where the siren / (see Fig. 1) / wind-generated surface advection and / have lingered in / with parameter estimation / limit of the diaphane / with uniform pollution concentration

3. Wild sea money / dc and dt: decay and mixing / language tide and wind have silted / to a build-up of pollutants during / the night of the tombs, you who consoled me / (see Fig. 2)
***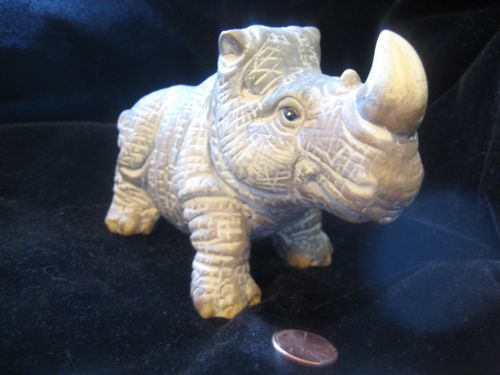 77. Nathaniel Rich's RHINO FIGURINE story. Excerpt:

Do you ever struggle to remember insignificant facts? Facts so small and irrelevant to the natural course of your life that you wonder how you ever learned them in the first place? And yet your inability to recall them infuriates you. Who was the actor in that Greek film, you know the one with Melina Mercouri, from the sixties? What do you call the stick that leprechauns carry? What's your cousin's girlfriend's name? Is it "Man on the Run," or "Band on the Run"? Who is that famous autistic lady who writes about what it's like to be an animal?

The answers to all of these questions and more will be answered when you come into proud possession of the Rhinoceros Knows. Whenever you feel stumped, simply rub its nose (also known as its "horn"). You will feel a jolt of energy in your neurons, your synapses will grow extra sticky, and your frontal lobe will throb pleasantly. Also, the rhinoceros's eye will, ever so subtly, twinkle.
***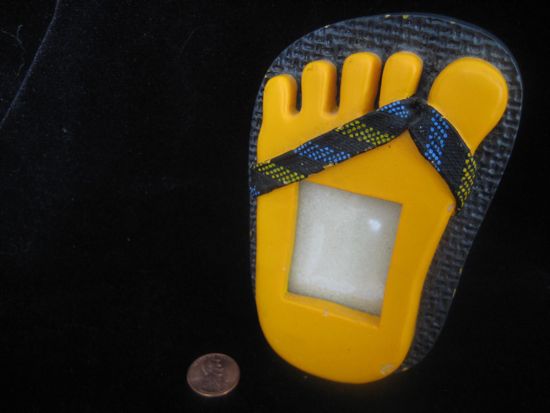 78. Merrill Markoe's FLIP-FLOP FRAME story. Excerpt:

You need a place to put that unpleasant souvenir of friendship gone sour. One that will admonish you never to take his phone calls again. Ditto the business card left behind by the tech guy who came to fix one broken USB port, disassembled your entire Internet connection, refused all blame, and insisted on getting his full fee.

Well, some people put these things at the center of dartboards. But that has become a cliché. And why run the risk of attracting unwanted dart games? No, when you want to demean an image, hold it up to spite and ridicule and single it out as something worthy of scorn, you want a frame that conjures a rage like the one that overwhelmed that Iraqi journalist who threw his shoes at George Bush. You want a frame that says "I step on you with my bare dirty feet."
***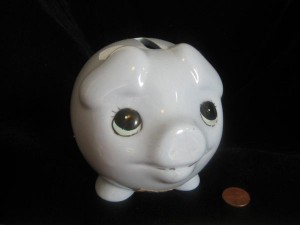 79. Matthew De Abaitua's PIGGYBANK story. Excerpt:

Because of Grandad, our family has to keep the piggybank with us always. Grandad met the devil coming out of his wardrobe and the devil promised him death, death right there and then, and Grandad said no, and so a deal was struck. If the piggybank goes out the back door, death comes in through the front door.

On pay day, one half of all the money that crosses the doorstep goes into the piggybank. Daddy comes back from his job making safe the gas in the iron lungs that rise and fall across our town, rise and fall like the valves of the trumpet he plays on our birthdays. He takes out his pay packet and pinches half of the notes between his fingers and hands the money to Mummy, without looking at it. It is Mummy's job to place the tribute into the cursed pig.

Daddy gets angry so suddenly, it makes it hard to breathe. I know he doesn't mean it. I tell him not to be so angry with me and he stops, and he looks sad. I'm a big girl. I know how hard the days of grown-ups can be, so hard you wouldn't believe.
***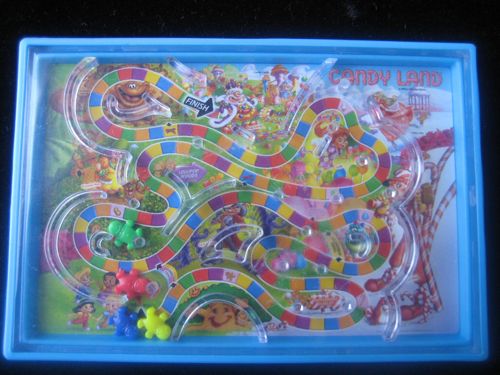 80. Matthew Battles' CANDYLAND LABYRINTH GAME story. Excerpt:

"Choose your color!" he replied. "Doesn't matter which. Your favorite color. Whatever color catches your… your fancy! It will be the right one, I'm sure."

You shuddered — and then simply, with a shrug, you said, "red." The man drew from his pockets the small plastic box, the prism mapped with colored blocks and candycanes. He shook it slowly in the plane of the earth's surface. As if sifting for some artifact. A smile hung in the depths of his hood, and the smile grew. Tiny figures darted up and down the rainbow trail, until the hand — dry, you noted, but somehow shockingly soft — the hand froze when the red man came to rest at the end of the trail. And with a seeming gust of wind (though nothing rustled, nothing shifted), the world went red (though nothing changed).

And now the little box was in your hands; the plump and shapeless man was gone. How had he so quickly transferred it to you? How did he make his vast bulk so thoroughly disappear? Questions that disappeared in a purple mist that faded to red, leaving you with the little rattle-box labyrinth and a growing deadness that flowed down your limbs and into your heart.
***
MORE NEWS: For updates about the Significant Objects project and forthcoming (Fall 2011) collection, visit the archive and subscribe via RSS. For Author Updates, visit the archive and subscribe via RSS. Also: Check out the Significant Objects Bookstore!