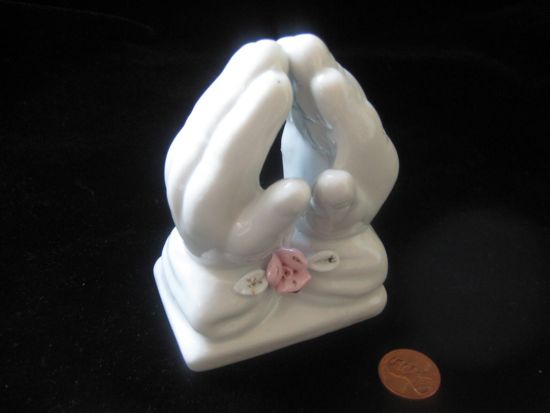 [The auction for this Significant Object, with story by Rosecrans Baldwin, has ended. Original price: $1.50. Final price: $26. ]
The North Americans refused accusal. Constructed great cities and gave their names to them and let them crumble and then walked away. Disappeared in The Big Sand. Said never to apologize and seldom to slow down. Who judged on souls, some anointed, some not. That's what the relics show. People of the small picture.
Shown: Totem of North American Perry Atlas. He found it tissue-wrapped in a rental car. Atlas, cell-phone salesman, who gave up his marriage and family in Knoxville, Tennessee, for a week's affair with a bartender who was post-pregnant and couldn't help but look around for what came next. Miscarriage, and Atlas later homeless in Shreveport.
Then carried by two murderers — killing from self-loathing, having already killed four — on a drug spree through Illinois. One with a gun, one with a map. They were bragging, lurching toward Springfield, and hit a Wendy's. Robbed a hundred bucks from the register and found two hands in prayer on the counter and palmed it too, propped it up on the dashboard for good luck. An accident, a heart attack striking the driver that evening, killed both, and that was that.
Finally, the totem of North American girl Dahlia, who received it in the mail from her sister, Mocha, who was always sending her dumb shit, those small praying hands being the last straw, said Dahlia; their being, duh, obviously a reference to how Mocha saw Dahlia's prospects in life (without a prayer); Dahlia's suicide securely severing their relationship.
Nothing survives. The American dream mutated to its rest, but it was doomed from day one, so were the Americans. So are we.
—from Exhibition Captions of Gao Jianqing Sanderson, Doomsday Collector (ICBC Wal-Mobil, 3055)