Announcement: We've just posted a page dedicated to the Significant Objects project's press clippings. We'll keep it updated.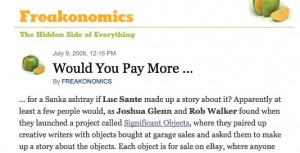 Earlier this week, Rob Walker posted an update in which he noted (among other things) that several journalists and bloggers have commented on what might be called the cultural-economic aspects of the Significant Objects project. The New York Times's Freakonomics blog, for example, wondered whether the "supersonic premium" that bidders had shown themselves willing to pay for a Candyland labyrinth game bought at a thrift shop for $0.29, reflected (a) the quality of Matthew Battles' story about the object, (b) the value to the bidder of participating in our project, or (c) "perhaps some new Candyland scarcity" — this last suggestion offered with tongue planted firmly in cheek.
Others have asked questions along the same lines. The Boston Globe Ideas section's Brainiac blog queries: "So is it the intrinsic utility and beauty of a commodity that creates its value, or the stories we tell ourselves about them?" Time Out Chicago opines: "It's an inventive way to explore the notion of value, perceived value versus market value, etc." The LA Times's Jacket Copy blog asks: "Can a good story make something more valuable? What if it's entirely untrue? And what if the person telling the story — like, say, a novelist — is a kind of professional liar; does a professional lie give an object more value?"
According to The New Yorker's Book Bench blog, "you can bid on some forgotten item that's been infused with literary — and perhaps monetary — worth." Cool Hunting explains: "All net profits from the sales go directly to the authors in what may be the first pay scale for writers based on emotional impact." The blog Minutiae and Flux argues that Significant Objects is an experiment in what Etsy users like to call upcycling: "I've sort of always loved found things. Re-appropriated, re-made, re-contextualized… The folks over at Significant Objects are bringing a whole new meaning to the words, 'found objects.'"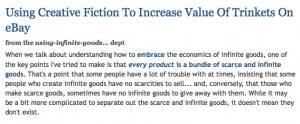 A few folks, finally, claim (jokingly?) that Rob and I have invented a new business model, of sorts: "This is just one (fun) example of many of content creators smartly using infinite goods (the stories) to make a scarce good (the trinket) more valuable, and putting in place a business model to profit from it," according to Techdirt. Fast Company suggests: "Here's an interesting and perhaps inadvertent side effect of the project: It could be argued that such exposure actually makes the writers worth more, too."
We encourage all such speculations (add your own to the comments section of this post!), as these are not too dissimilar to the questions that inspired us to launch Significant Objects in the first place. However, as we were putting together our website's new press clippings page, we realized that at least half of the reviews and mentions we've been lucky enough to receive are concerned not with questions of subjective vs. objective value, but with fiction writing.
"The roster of authors is beyond impressive," gushes BookSlut. "It's a heck of a great idea and Walker and Glenn have assembled a really terrific collection of writers to participate," seconds UnBeige. "It's a fantastic idea on so many levels — as a creative experiment, sociological commentary, examination of mythmaking," adds Bookninja. And Flux-Rad makes a terrific point: "Simply, the Significant Objects Project is talented writers giving stories to items found at thrift stores. The more complex and interesting result, naturally, is that all of these wonderful little pieces of Americana that have become someone else's trash get another chance at life and purpose."
"This is a creative exercise designers can try — take an everyday object from your office and imagine a history for it," suggests How Magazine. Others also see Significant Objects as a creative exercise. Core77 notes: "The stories are too short even to be called short stories — a few paragraphs each — but paired with the almost- but not-quite-kitschy thrift store finds, they take on a sort of meditative quality. Peering into each image and trying to imagine its history in the way these authors do is a strangely satisfying act. And what's better, after reading a few, we're tempted to start looking at other objects in the same way." And the science fiction blog io9 wonders whether our stories might "represent an interesting kink in the alternative history genre."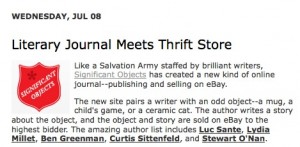 Our project wasn't intended as a creative exercise for the participants, but it certainly does function that way. Another unintended consequence: by posting dozens (eventually, we hope, 100) of original stories to a single website — and to eBay — we've become publishers of new fiction. "Like a Salvation Army staffed by brilliant writers, Significant Objects has created a new kind of online journal — publishing and selling on eBay," insists the publishing blog GalleyCat. We'll give the last word on this particular topic, for now, to PSFK: "While the objects themselves might be worthless, the stories are bound to be worth every cent."
Perhaps my favorite take on the literary aspects of the project so far comes from Lydia Netzer, of Examiner.com. She writes:
How difficult would it be for an author to sell a short story on eBay, without the object attached? Especially a story given in full, which a potential buyer could immediately read online or print out for him/herself? Pretty difficult. Yet here is a story, connected to an old button found at a thrift store, that's selling for the price of three paperbacks. Remember, we are in a time when even books are seen as archaic, where people download cheap digital versions of novels, and fiction is readily available all over the internet in a bazillion online magazines. Maybe what this buyer is actually purchasing is a feeling of ownership that escapes the average reader of a Kindle download or a mass market paperback. This reader will possess the button, and therefore possess the story, in a way that no one else will or can. Like an illustrated text, before the printing press was invented, there is a real sense of exclusivity to this type of writing — it can only truly be owned by one person.
Now that's a revolutionary publishing model.