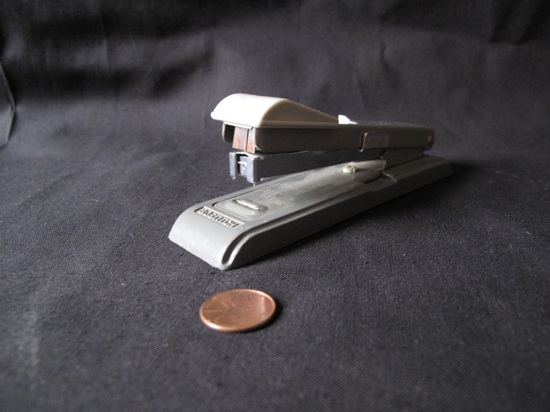 [The auction for this Significant Object, with story by Katharine Weber, has ended. Original price: $1. Final price: $10.50.]
Thirty-two years ago I was sent by the Smithers Employment Agency to interview with the worst client in the history of the agency. Four other girls had been rejected that same day, each one of them returning within an hour, in tears (poor Rose O'Brien couldn't stop sobbing for the longest time and Mary Casey went home with a migraine and never returned). Although I had very little experience as a personal secretary, in fact, none at all, having sold gloves at Saks for ten years until I was replaced by someone prettier though thoroughly unqualified, and even though Mr. Smithers had commented unfavorably on my unfortunate tendency to blush and stammer when flustered, which he said would make it hard to place me, I suppose he had run out of prospects to send.
So over to Dr. Marjorie Grimstone's I went, on the cross-town bus, wearing my three-button dove-gray cashmere gloves with my navy suit. Dr. Grimstone showed me her office as if I were a mental defective ("This is my office"). There was a small desk ("This is where you would sit and do your work on Tuesday and Thursday afternoons"), bare except for a telephone, a plastic-hooded adding machine, a large, gun-metal tape dispenser, and a tiny stapler ("I prefer the smaller staples for my patient notes and billing files; if operated precisely it won't jam"). Next to the desk loomed a massive IBM Selectric typewriter, shrouded in plastic, on its own typing table.
Dr. Grimstone sat me down on the hard stenographer's chair which rolled around on a plastic mat protecting her Turkish carpet, and then she sat across the room on a small tufted armchair at the end of her analytic couch and tried to intimidate me by asking all sorts of rude personal questions, which she explained she was entitled to ask because she was a "shrink," as she put it. I came to see over time that Dr. Grimstone treated everyone this way, as if she had a special privilege to regard all of humanity as her research subjects. I don't really know why, but I stood up to her and I didn't cry like the others, or blush or stammer, even when she asked me if my orgasms were clitoral or vaginal. Instead I looked her in the eye and said Dr. Grimstone, I am your last chance at hiring a part-time secretary from the Smithers Agency, and even though I am not very experienced, I believe I can do the job, and you seem like someone capable of being kind, so why don't you just hire me and stop being so unkind, and she did.
By the time she died, Dr.Grimstone had a very organized estate. She was meticulous about the tiniest things: the Chinese porcelain, the Tupperware, the Turkish carpets, the extension cords, the family silver, the finger bowls, the Murano glass animals, the psychoanalytic journals. The shredding of patient records we had done together once she had become deaf as a post and couldn't keep asking patients to repeat their deepest secrets, to shout them out from that scratchy olive green couch under the Durer woodcuts which had been her father's, which she left to the great-niece she liked best.
She left me an annuity for less than I had hoped, though it was generous, and also, in a touching failure of imagination, as if Dr. Grimstone could only envisage my future in my studio apartment in The Bronx (which she bought me twenty years ago when the building went co-op), sitting at that desk from her office, continuing my  routine of those thirty-two years, she left me the desk and the stenographer's chair, along with the IBM Selectric typewriter, the adding machine, the plastic slipcovers for both, the heavy, gun-metal tape dispenser, and the tiny stapler, which, frankly, often jams.