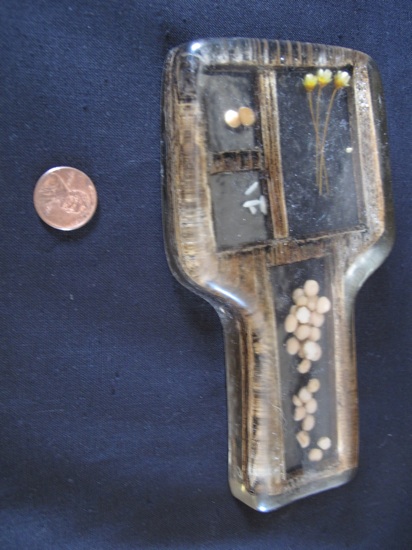 [The auction for this Significant Object, with story by Joanne McNeil, has ended. Original price: $1. Final price: $20.50.]
Among the many misconceptions that prevail about my great-grandfather, Hartford Townes Hastings, the most infuriating is the idea that he was a disinterested playboy benefactor, squandering the family fortune on "women and dreams," as the New York Sun obituary put it. He was reserved, but kind and idealistic, a vegetarian since childhood. I never saw him drink or cuss or eat more than a few bites of anything. I believe history will redeem him as a frustrated artist, rather than a failed businessman.
After Amherst College, rather than a position at the family surgical dressings business, he went to Paris to create "surrealist craft art," elaborate wood carvings and collage. None of his work survived the return back over the Atlantic, although he salvaged parts of "Birds Nesting in Quilted Landscape." He stored the ceramic eggs and mushrooms, dried flowers, and bits of grain in an old pill box and preserved it in glass. My great-grandfather kept the "little grain thing" at his bedside for twenty years, as a reminder never to give up on art.
In 1925, he married my great-grandmother Rose Fox Townes Hastings, the daughter of a New York police officer and the face of Elizabeth Arden's first print ad. Together they conceived of The Museum of Modern Craft. It opened in 1941, when the world had other priorities. In fact, it was a thinly disguised plan to display his own art, as "Pierce Mancini." He even displayed the grain keepsake near the entrance, attributed to his pseudonym as "Wistfully, lingering away in the Heartland, 1929." Due to enormous losses, the museum closed seven years later. The building was sold to the city and turned into an administrative office. My great-grandmother divorced him shortly thereafter.
His tea importing business was a disaster, he lost millions in multiple real estate developments, and a typhoon flooded the small island he purchased in the South Pacific before the 300-suite artist colony could open. The idea behind each of these pursuits was that one day he might secure the funds to reopen The Museum of Modern Craft.
Later in life, at the encouragement of Joseph Cornell, his best friend since Andover, my great-grandfather returned to his "surrealist crafts," scouring junk shops from Cape Cod to the 6th arrondissement for anything to cobble together. He and Cornell had plans to create an entire city of old dollhouses. The project was abandoned after Cornell's death in 1972. I have the sketches for it, as well as thirty-seven of my great-grandfather's unfinished pieces.
My great-grandfather declared bankruptcy in 1992 and died in 1995, in a manufactured home in Woods Hole. I found his "little grain thing" among a dozen other thrift store treasures in a cardboard box marked in black sharpie, "For Joseph."