Congratulations to Matthew J. Wells, whose BBQ Sauce Jar story — entered in a Significant Objects contest earlier this month — triumphed over 600+ other entries to earn top honors, from a panel of judges from Slate.com, as well as S.O.'s own Rob Walker and Josh Glenn.
Wells invented Significance for the BBQ Sauce Jar by way of a thrilling and chilling tale involving the real-life murder of architect Stanford White by Harry Kendall Thaw (the husband of White's ex-lover, chorus girl and model Evelyn Nesbit). How did he do that, exactly? Well, you'll get the answer to that when we post his story momentarily (both here, and of course in our eBay shop). The story will also be published by Slate.
As you've probably guessed if you've been following this, the final decision was difficult; we had a lot of very strong entries. The judges selected 12 finalists, so there are 11 runners-up: David Abrams, Tom Bradstreet, Alex Chapman, Rodrigo Chavez, Erin Ellia, Jason M. Fernandes, Joseph Lyons, Francesca Petty, Hepzibah Phreake, David Popple, and Alan Rodriguez-Ponce. Our congratulations go out to them, as well — and our sincere thanks to everyone who participated.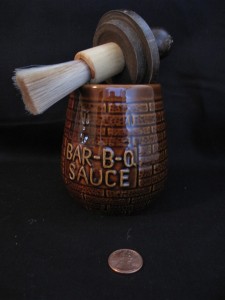 We asked Wells, a playwright currently writing the history of an imaginary New York Bar called The Naughty Pine, what his interest in the Stanford White murder case was. "I've always been fascinated by New York City history, and the Stanford White murder was probably the first of many Trials Of The Century…" he said. "I also get a thrill out of thinking that, because Evelyn Nesbit survived into the '60s, she could very well have met up with Joan Collins before Collins starred as Nesbit in 1955's The Girl In The Red Velvet Swing. That's right up there on my list of one-acts to write when I get some free time."
Next, of course, we'll find out what happens when Wells' Significant Object goes up for sale. We asked Wells: If he could give displaying instructions to the BBQ Sauce jar's winning bidder and future owner, what would they be? He replied: "'The Management reserves the right to refuse service to anyone who uses the contents of this jar for any other purpose but the application of barbecue sauce on a plate of ribs.'"
Congrats again to Wells and the 11 runners-up, and sincere thanks to everyone who participated. Significant Objects also thanks Slate.com for hosting this contest!
PS: In a photo of Nesbit found at Wikipedia, she's clutching what looks like… a significant object! Perhaps it's the very pitcher she used (if Wells' story is to be believed) to wash BBQ sauce from Thaw's bloody face, or from other body parts.