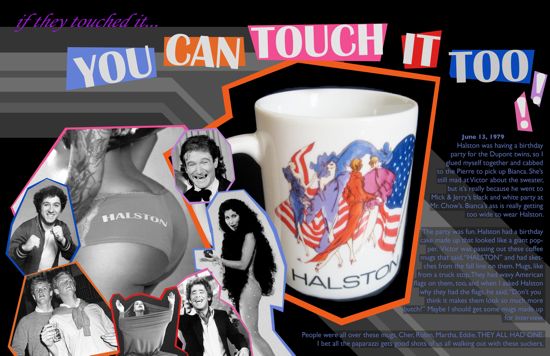 So far in discussing the creations of Art Novak's advertising students at the Savannah College of Art Design, who devised Significant Ads for select Significant Objects as a scholarly exercise, I've highlighted online Flash-based inventions. But many of the students presented ideas for print ads. Above, for instance, Alan Bayoneto's very striking and fun mag ad inspired by the Halston Mug + Mimi Lipson Story.
I wish I'd taken real notes during my classroom visit, when each student presented and explained his or her work, but the upshot here is that Mr. Bayoneto sought out imagery to echo the date of the story's setting — 1979. I believe he was thinking of a kind of youth/fashion/art magazine as a venue, and if you can't read the headline it says, "If they touched it, you can touch it to." This strikes me as a cunning strategy, as it echoes the notion from Lipson's story that  this item is desirable because it was somehow proximate to the actual celebrity/art culture of that wonderfully decadent era.
As for his decision to juxtapoes that particular headline with the Halston-branded rump that is the obvious visual focus here — let's just say that was cheeky of him.
Another student also chose this object/story as a subject. Jenna Paulette created what I should present here as a fully interactive online ad, but for various reasons I can't quite reproduce that properly, so I'll present the images sequentially instead:
I should note that I actually removed one of Ms. Paulette's slides, which had suggested that this story was an excerpt from Mimi Lipson's diary. (The story's setup notes that it is "From AW: The Lost Diaries," but I certainly don't assume that a college student today is likely to guess who "AW" might be.) I think this works just as well without that slide, and is very graphically engaging — with a great finish that sells not just this story, but the whole project.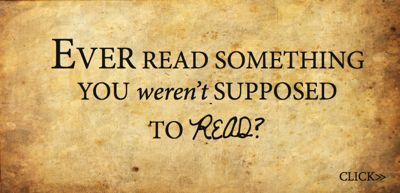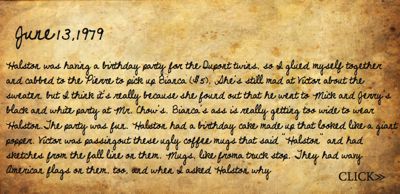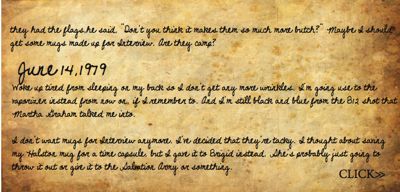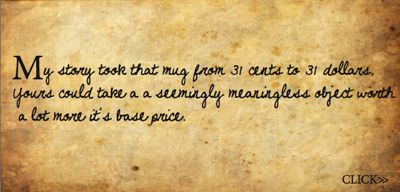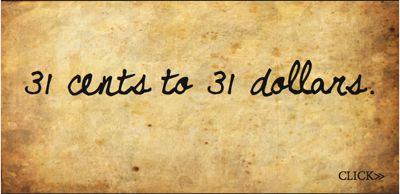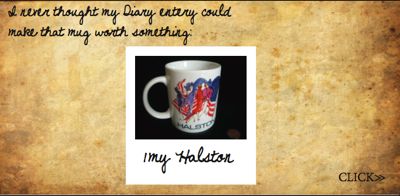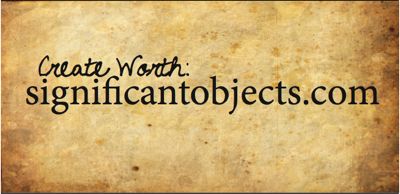 Even more great stuff still to come from Art Novak's awesome students. Stay tuned…