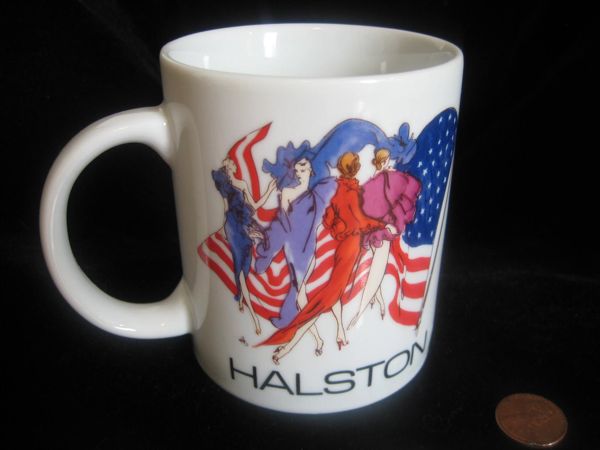 [The auction on this Significant Object, with story by Mimi Lipson, has ended. Original price: 39 cents. Final price: $31.]
From AW: The Lost Diaries
Wednesday, June 13, 1979
Halston was having a birthday party for the Dupont twins, so I glued myself together and cabbed to the Pierre to pick up Bianca ($5). She's still mad at Victor about the sweater, but I think it's really because she found out that he went to Mick and Jerry's black-and-white party at Mr. Chow's. Bianca's ass is really getting too wide to wear Halston.
The party was fun. Halston had a birthday cake made up that looked like a giant popper. Victor was passing out these ugly coffee mugs that said "Halston" and had sketches from the fall line on them. Mugs, like from a truck stop. They had wavy American flags on them, too, and when I asked Halston why they had the flags, he said, "Don't you think it makes them so much more butch?" Maybe I should get some mugs made up for Interview. Are they camp?
Thursday, June 14, 1979
Woke up tired from sleeping on my back so I don't get any more wrinkles. I'm going use to the vaporizer instead from now on, if I remember to. And I'm still black and blue from the B12 shot that Martha Graham talked me into.
I don't want mugs for Interview anymore. I've decided that they're tacky. I thought about saving my Halston mug for a time capsule, but I gave it to Brigid instead. She's probably just going to throw it out or give it to the Salvation Army or something.