IN THIS POST: Neil LaBute, Myla Goldberg, Miranda Mellis, Mimi Lipson, Meg Cabot.

DON'T FORGET: On October 9th, from 6-7 p.m., as part of Litquake's Litcrawl, SIGNIFICANT OBJECTS will present its first live event: An Evening of Remarkable Stories about Unremarkable Things featuring Rob Baedeker, Chris Colin, Miranda Mellis, Beth Lisick, and Katie Wiliams. (plus the first-ever Object Slam) at San Francisco's Root Division. Map to Venue. Confirm your attendance on Facebook!

***
This is the fifth installment in a series of twenty posts announcing — in no particular order — which 100 stories will be collected in the Significant Objects book (forthcoming in 2011 from Fantagraphics).
***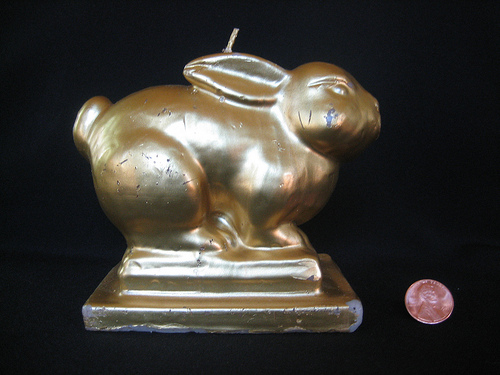 21. Neil LaBute's RABBIT CANDLE story. Excerpt:
It was still chipped in many places, the fingernails of dozens of children who must've touched it over the years up there in His room. Marveled at it sitting on His desk while they waited for Him. Watched Him. My friend Tim swore it was 'yellow' but I knew the truth — perhaps I alone — that is was made of real gold and that there was an actual bunny buried deep inside the wax. He promised me that one day, if I was very good, that we would light it together and set the bunny free, that if it burned long enough and if I waited there in the dark with Him quietly enough, that it would emerge from its fiery prison and be mine.
***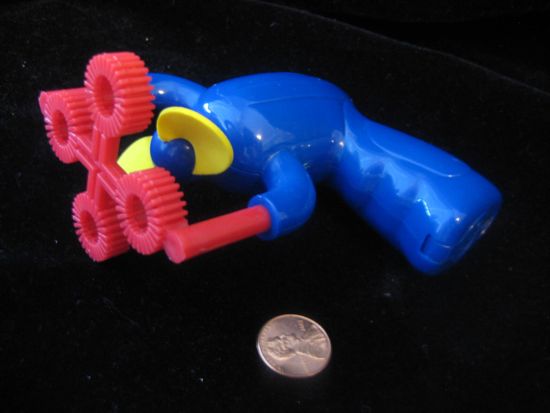 22. Myla Goldberg's HAND-HELD BUBBLE BLOWER story. Excerpt:
Curl your fingers around the handle, lift it to your mouth, and flick the switch. Say what you long to say.
***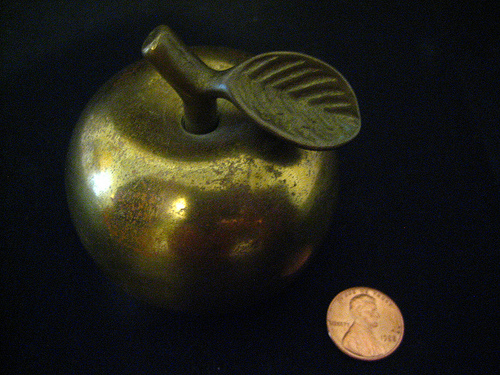 23. Miranda Mellis' BRASS APPLE story. Excerpt:
Comrades gave you carpentry tools and unusual rocks on your birthday, and you were not ungrateful. You knew that history was written by the victors, that reality was mutable. But was it too much to expect real food in your lunch box? Why the plastic sandwich, the rubber carrot and the brass apple on this happiest of days, when everyone had permission to leave school for more stimulating environments?
***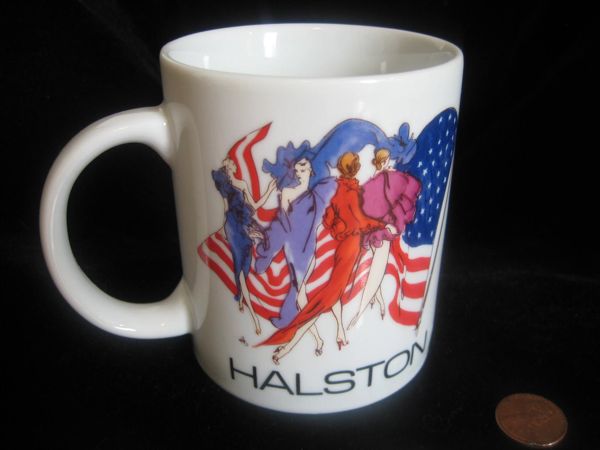 24. Mimi Lipson's HALSTON MUG story. Excerpt:
The party was fun. Halston had a birthday cake made up that looked like a giant popper. Victor was passing out these ugly coffee mugs that said "Halston" and had sketches from the fall line on them. Mugs, like from a truck stop. They had wavy American flags on them, too, and when I asked Halston why they had the flags, he said, "Don't you think it makes them so much more butch?"
***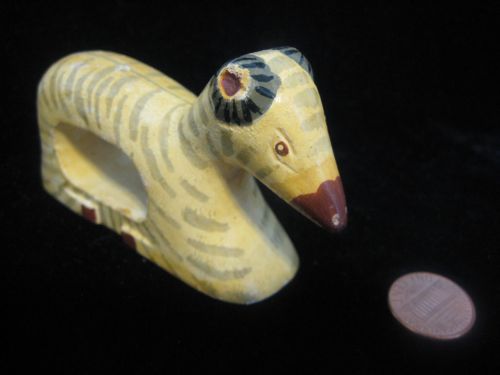 25. Meg Cabot's WOODEN ANIMAL story. Excerpt:
But the whole time I was lying on the couch in front of the TV, trying not to get dry sockets, Brandon never called. He never once called, or even texted.

The funny thing was, neither did Kara.

And then when he finally did show up, he was all, "I thought of you every minute, babe!"

And then he gave me this authentic wooden cow, or snake, or whatever it is. Real Mexican villagers carved it, he said.

But if so they must know Kara, because it looks exactly like her.

Especially the empty space where its heart should be.
***
MORE NEWS:
For updates about the Significant Objects project and forthcoming collection,
visit the archive
and
subscribe via RSS
. For Author Updates,
visit the archive
and
subscribe via RSS
. Also: Check out the
Significant Objects Bookstore
!