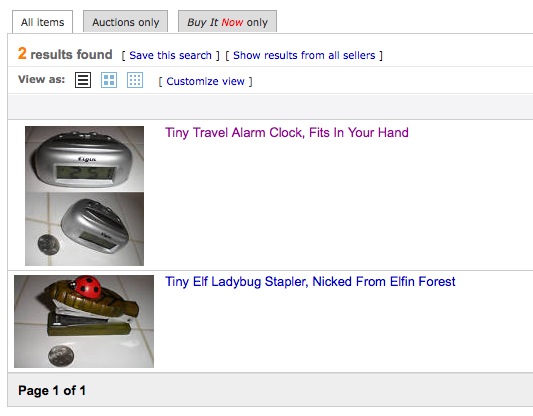 Portland, OR-based eBay seller "kamoh" recently listed a travel alarm clock, and also a leaf-shaped stapler (with ladybug), for auction.
The stapler's item description contains a note from an Elf whose forest was laid off; also included in the item description is the actual layoff memo from the Elf's ex-boss, Lord Finklewise II, Of the Grand Restructuring and Profit-Sharing Endeavour, Forest #39184, Kingdom of His Luminescence Bo'Ama.
The alarm clock's item description begins: "Mother hated how I would act around her new boyfriend, but understood at the same time. This man, who had suddenly appeared at the dinner table one night, lingered in the rooms of my house like the stale air of a belch. He always tried to show me how to play some stupid song on his guitar, like I needed lessons from him."
Ben Serviss, of Portland, who may or may not be "kamoh," sums it up well in this tweet.
***
For more evidence of the Significant Objects Meme, click here.
MORE NEWS: For updates about the Significant Objects project and forthcoming collection, visit the archive and subscribe via RSS. For Author Updates, visit the archive and subscribe via RSS. Also: Check out the Significant Objects Bookstore!