Aggregate cost of objects, sold so far: $60.50.
Aggregate sales, post-Significance: $1,478.54.
Coming up this week: Objects with Significance added by Sari Wilson and Sloane Crosley. Posted earlier this week: object-oriented stories by Sung J. Woo, Todd Levin, and Rosecrans Baldwin. PS: Levin's story was the 50th we've published since launching this experiment, without advance warning or fanfare, on July 5. If we stick to our original plan, i.e., publishing 100 stories, we're halfway there!
Currently up for auction: Less than 24 hours to go for the mysterious DEVICE, about which Tom Bartlett writes: "Then we would return to our apartment, plug in the item pictured above, and stare at it transfixed until one or both of us passed out on the thrift-store couch, our nametags still affixed to our wrinkled knit shirts."
The bargains of the moment are the aforementioned mysterious DEVICE, a ZIGGY HEART paperweight (story by Levin), and a PRAYING HANDS statuette (story by Baldwin). The WOODEN MALLET about which Colson Whitehead wrote for this project, and about which he continues to write via Twitter, is currently at $56. More in our eBay shop.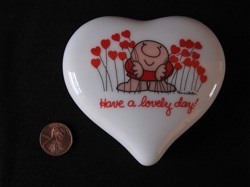 Finally, a new record was set on Tuesday when the Russian Figure about which Doug Dorst wrote was auctioned off for a whopping $193.50! As always, all proceeds go to to the author.
Recent reactions from elsewhere: GalleyCat writes about Colson Whitehead's multi-platform Wooden Mallet story. Shout out from Even More Legendary. Art Fag City zings our photo skills. (Actually, just my photo skills; Rob takes very good photos of objects.) Oh, and we received more criticism about our abilities as eBay sellers from eBay user pippanell, who took the time to lecture us: "Photograph the object professionally, and offer an emailed or mailed image of the object to the winning bidder to accompany the story, as a package. Your concept is good, but the execution of your presentation, selling and marketing approach is unfortunately not on par." Etc. Er, thanks for the constructive criticism…
As long as we're on the topic of aesthetics, I've been meaning to post an explanation about a few of the tags we've attached to our significant objects. To get an idea of which ones we've used most, so far, click on the TAGS button in the right-hand nav bar. For those of you too lazy to do so, the short answer is: FIGURINE, DISHWARE, NOVELTY ITEM, PROMOTIONAL ITEM, and KITSCH. What is the difference, you might ask, between a novelty item, a promotional item, and kitsch?
OK, a novelty item is an object manufactured with premeditated wackiness: the SMILING MUG, for example; or the NECKING TEAM BUTTON.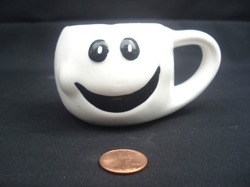 A promotional item, on the other hand, might be wacky — but it was manufactured with the intention of advertising a product or service. The SANKA ASHTRAY is a fun example of this sort of thing, because it misspells the word "caffeine." And the MARINES (UPSIDE-DOWN) LOGO MUG is another fun one, for reasons explained by its moniker.
What's kitsch? As I explained a decade ago, in the pages of Hermenaut, kitsch is a cultural product intended to be high quality, but seriously flawed in conception or taste. This is not to say that kitsch can't be enjoyed and appreciated; it's not necessary to mock and despise it. Some combination of affection and mockery is really the best way to proceed, as we see in the stories we've published about the FOPPISH FIGURINE, the UNICORN, and the PORCELAIN SCOOTER. Hey, that would make a good The Lion, The Witch, and The Wardrobe-style title for something, wouldn't it?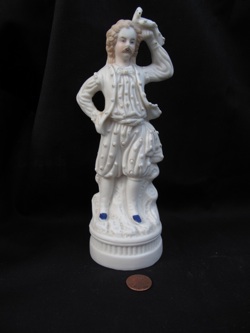 If we missed your take, let us know in the comments. For more reactions see our Press Page, or check the reviews/reactions links at right.
Keep up & participate:
Get a Significant Object story by email every weekday, here.
Follow on Twitter: @SignificObs.
Remember: If you like the project, support these authors by making bids, commenting on the stories, telling friends and fans and followers and strangers and media contacts, or all of the above. We cannot do this without you!
Thanks, and enjoy the stories …