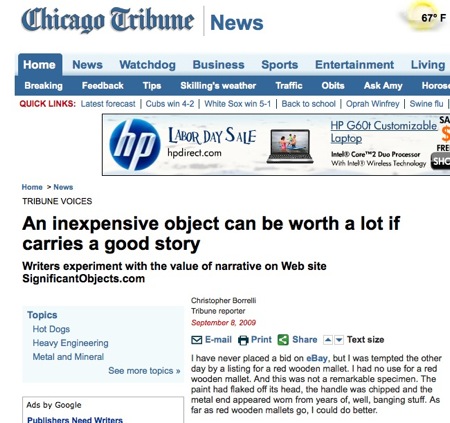 The following is excerpted from an article published today in the Chicago Tribune. Reporter: Christopher Borrelli.
I have never placed a bid on eBay, but I was tempted the other day by a listing for a red wooden mallet. I had no use for a red wooden mallet. And this was not a remarkable specimen. The paint had flaked off its head, the handle was chipped and the metal end appeared worn from years of, well, banging stuff. As far as red wooden mallets go, I could do better.
That said, bidding, which had opened at 33 cents, already stood at $56.
Too rich for my taste in red mallets. Except I wanted that red mallet all the more.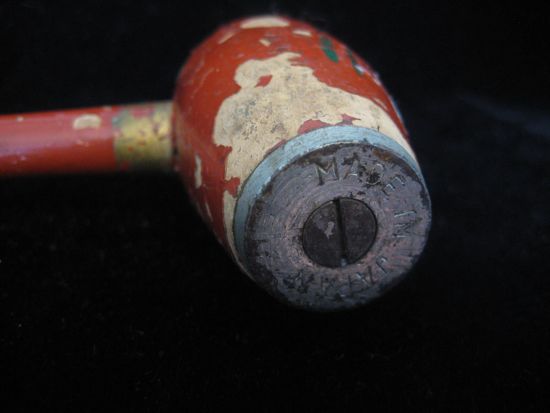 I was tempted because there was a story attached to the mallet. Where you would normally find a description of the item for sale, there was a tale written by novelist Colson Whitehead. The story was clearly fiction — something about a rift in time and space opening above a restaurant in Laramie, Wyo., and how only the person who possesses this mallet "will be able to enter the rift unscathed." …
Rob Walker and Joshua Glenn had placed the mallet on eBay and asked Whitehead to write the story. Walker writes the consumer trends column for The New York Times Magazine and is author of Buying In: The Secret Dialogue Between What We Buy and Who We Are; Glenn is co-author of Taking Things Seriously. Earlier this summer they began an experiment called SignificantObjects.com. The question was whether a story from a "talented, creative writer" could invest any object with "not merely subjective but objective value."
Essentially, can value be conjured arbitrarily through the power of a well-told tale?
The answer is yep.
Read the rest of this article here.