Check it out. There are only three items remaining in Significant Objects' eBay shop. Once the bidding for these objects ends, the Significant Objects experiment will be over…
But the Significant Objects project — of which the experiment was only the first (though critical) phase — will continue! As tentatively suggested in a few posts last week, we've decided to continue Significant Objects as a charitable fundraising effort. We're busy lining up contributors (new and old) this week, and we haven't yet settled on which charity we'll be supporting. We might ask you to help us figure that out soon.
In the meantime, as we analyze the data from the Significant Objects experiment, we'll be posting our thoughts. And we encourage you to post your theories about why some of our objects sold for more than others. (Spot any patterns? Tell us! We'll post the data for you to parse.) Lots of reasons, then, to keep visiting the site in the weeks to come.
And if you haven't yet bid on a significant object…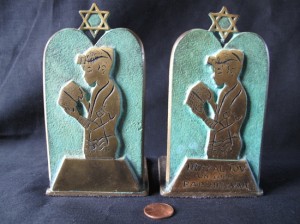 The Bar Mitzvah Bookends. Stacey Levine writes: "The ceremony began on the sump pump and I slagged to the back of the room. I paced. I had a great pain to mitigate. I saw the bookends in an unwrapped box on the counter and thought, 'What a stupid gift to bring to a wedding. Who would do that?' Then I stole the bookends. What a coward I am."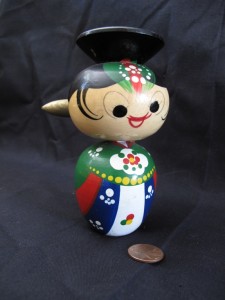 The Geisha Bobblehead. Edward Champion writes: "While it was true that the geisha dramatized the occasional lowbrow feat, befitting an object of her status, even she had her standards. She'd wobble her elliptical hips within a studded hula hoop forged from painful tungsten alloy. She'd gorge on great sticks of fire while her blind part-time assistant hurled jeweled daggers round her anatomical outline. And if wanton clients had serious dinero — particularly that shiny new oval currency with the Prince Albert piercing — she'd even flash a bit of flesh, relishing her total control over the crowd."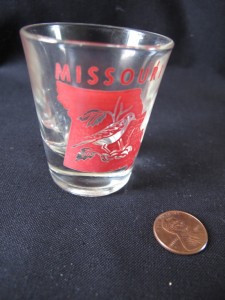 The Missouri Shotglass. Jonathan Lethem writes: "Lookit 'im there, cool as a flippin' cucumber, straddling the state like nobody's business. Crazy little red-tailed devil knows more than he's saying too, can't you tell? Love the way he flushes amber, then goes all transparent again. Strive to be like a windowpane, not a mirror, that's how he makes his way through the world."
This is your last chance to own one of the 100 objects from Significant Objects' experimental phase. Bid now!