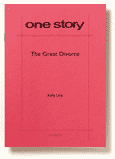 Readers, you've waited patiently for new Significant Objects and stories, while we squared away some of the preliminary details on our forthcoming book, and labored to complete a few of the various unrelated tasks that enable us to pay our bills. We appreciate that patience, and we have Good news!
We have a special week of all-new stories, starting Monday.
Three-time S.O. contributor Ben Greenman has stepped up as a guest-curator of a special Epistolary Week. Ben has a book out this month, What He's Poised To Do, in which the stories take the form of letters. This inspired him to line up a great team of writers to write stories about Significant Objects, also in the form of letters. Ben has decreed that proceeds from Epistolary Week will go to OneStory, the admirable non-profit literary magazine that features one great short story mailed to subscribers every three weeks.
We'll have full details on Monday, but here's one to tide you over: If you're in New York, mark June 21 on your calendar, as Ben will have an event for the book that night at Brooklyn's Greenlight Bookstore, and that event will include a live reading of one of next week's stories. While the story is by James Hannaham, the reading won't be. "The actress and performance artist Okwui Okpokwasili," the New Yorker explains, will be "reading on behalf of the Web site Significant Objects."
How can you resist?