One of my favorite objects, so far, is the Toy Hot Dog about which Jenny Davidson wrote on July 8. My sentiment is of the punk or camp variety, I guess: after all, hot dogs are already grotesque, and wooden hot dogs with plastic buns are particularly unappetizing. All I know is that after the auction, I found it really tough to let this significant object go.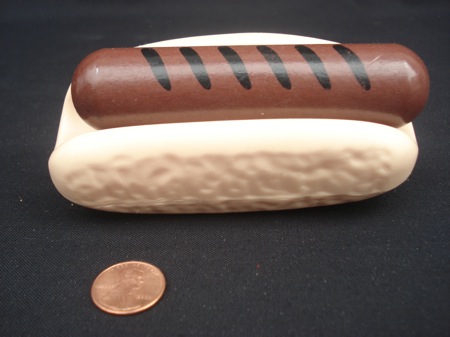 So where is it now? The winning bidder, a woman we'll call J., to preserve her privacy, was kind enough to send us a gorgeous photo of the Toy Hot Dog in its swanky and fun new environs. Voilà!
We encourage all winning bidders to send us high-resolutions photos of their significant objects, or add them to our Flickr Pool: Significant Objects: The Owners.
IN OTHER NEWS: The end of August is always a slow time in the blogosphere. Everyone is on vacation, outdoors; they're reading email on their Blackberries and iPhones, perhaps, but not visiting websites. So our traffic is a bit down, this week, and bidding on the Design Observer-signified objects now on eBay is slow. Why do I mention these unhappy facts? Because if you've been discouraged at the $20+ average winning bids on our significant objects items so far, you may be in luck for the next week. Check it out: the price is right!