Last month, in an update, I explained our Significant Object categorization scheme: a FOSSIL is an object that bears witness to a vanished era or way of life (including childhood); an object that played a role in a crime or memorable public event is EVIDENCE; a TOTEM is an object from the natural world — animal, vegetable, or mineral — that is a tutelary spirit; while an object that has magical power, is lucky, or is alive is a TALISMAN. The excellent cartoon stories we've published this week offer fine examples of three of these categories.

In Josh Kramer's story, a human captured and observed by aliens won't attempt to eat the fake banana with which they've provided him. Kramer's story has transformed this insignificant object, purchased for 25 cents, into EVIDENCE. Bid here. Bidding is now at $26.00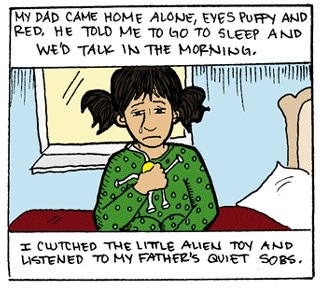 The narrator of Nomi Kane's story recounts a six-year-old's idyllic memories of her favorite uncle, who gave her an alien toy during a visit more fraught than she'd realized at first. That is to say, it's a FOSSIL. Purchased for 49 cents, the toy is currently selling for $16.50. Bid here.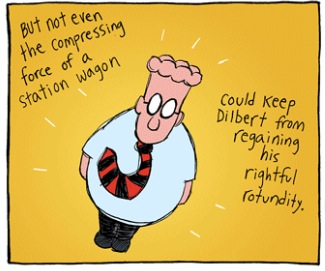 In Betsey Swardlick's story, a child substitutes a Dilbert stress toy for a baby Jesus figure in a homemade Nativity scene. Why? Because the stress toy had been flattened by a car — but "not even the compressing force of a station wagon could keep Dilbert from regaining his rightful rotundity." That is to say, the object died and came back to life — like (the grownup) Jesus did. Swardlick's narrative has transformed an insignificant squeeze toy purchased for 25 cents into a TALISMAN. Bid here. Now selling for $15.50.
Our thanks again to James Sturm and his many talented students at the Center for Cartoon Studies in White River Junction, Vermont!