IN THIS UPDATE: Myla Goldberg, Alissa Nutting, Joshua Glenn.

UPCOMING EVENT: On October 9th (from 6-7 p.m. at San Francisco's Root Division, as part of Litquake's Litcrawl), SIGNIFICANT OBJECTS will present its first live event: An Evening of Remarkable Stories about Unremarkable Things featuring Rob Baedeker, Chris Colin, Miranda Mellis, Beth Lisick, and Katie Wiliams. PLUS: the first-ever Object Slam. Map to Venue. Confirm your attendance on Facebook!
***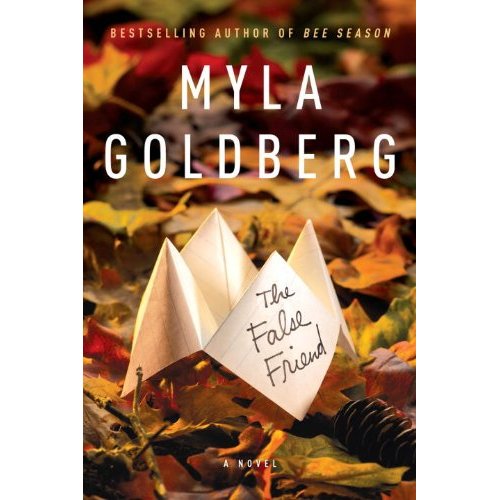 1) Myla Goldberg's new novel, The False Friend, is being released by Doubleday on October 5, and she's doing a number of readings. More info at her website. For example:
October 4
She'll be the guest on the Diane Rehm show on NPR, which streams live from 11am to noon (EST).
October 6 & 7
She'll be reading in New York.
October 9 & 10
She'll be reading at the Wordstock Festival in Portland, OR.
October 16
She'll be reading at the Boston Book Festival.
October 28 & 29
She'll be reading in San Francisco.
***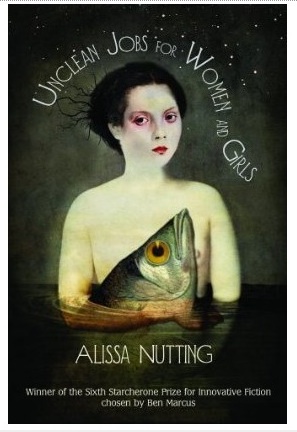 2) Alissa Nutting's book of short stories, Unclean Jobs for Women and Girls, comes out on October 1st.

Nutting's short story "Dying Is All I Think About" is in the fall issue of BOMB magazine. Her review of Gary Lutz's I Looked Alive (Black Square Books/Brooklyn Rail, 10/1/2010) will be published by Fanzine in the coming weeks. She will be reading in NY at The Center for Fiction, Thursday, October 14th at 7pm.
***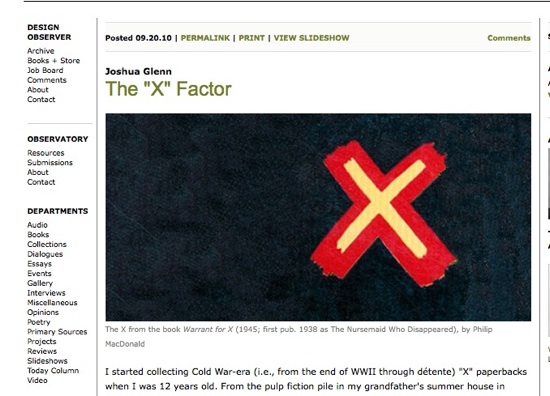 3) The blog Design Observer (with whom Significant Objects partnered for a week during SOv1) has published a slideshow spotlighting S.O. coeditor Joshua Glenn's collection of Cold War-era "X" paperbacks. Excerpt from introduction:

I started collecting Cold War-era (i.e., from the end of WWII through détente) "X" paperbacks when I was 12 years old. From the pulp fiction pile in my grandfather's summer house in Maine, I smuggled home a 1945 Pocket Book edition of Philip MacDonald's Warrant for X. I didn't want to read it; I was obsessed with the free-standing "X" on its cover: two swipes of red paint topped by two narrower swipes of white. Thus rendered, the letterform struck me — though not in these terms — as the quintessential signifier of all things mysterious and dangerous, forbidden and sexy.
View Glenn's complete "X" collection, as well as a collector's guide, at HiLobrow.com.
***
MORE NEWS: For updates about the Significant Objects project and forthcoming collection, visit the archive and subscribe via RSS. For Author Updates, visit the archive and subscribe via RSS. Also: Check out the Significant Objects Bookstore!