Earlier this fall, in an interview with Significant Objects' co-curator Rob Walker, MoMA's Paola Antonelli called Rob an "object whisperer."
Amused and intrigued by this moniker, Randy Ludacer of Beach Packaging Design and the excellent packaging-criticism blog Box Vox, whipped up a couple of cards for us.
Here's Rob's card: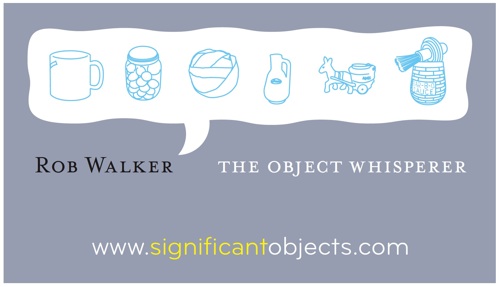 Coincidentally, about fifteen years ago, Josh (coauthor of The Idler's Glossary) wrote several items about "idler etiquette" for The Idler, a British magazine. Most of these items were actually about stationery. And one of these items in particular urged idlers to eschew business cards in favor of personal cards. Excerpt:

It's bad enough that we should be asked to spend most of our adult daylight hours trapped in an office; but when socializing it's almost criminal to hand out a business card. Our inherent fabulousness — which is, after all is what we're here on earth to develop and display for all to see — can in no way be expressed by a business card, no matter how illustrious one's company or title. On that point I am adamant. But I wouldn't suggest reverting to scribbling one's name on matchbooks (any sexiness which that act once held has long since been commercialized out of existence), or doing what I myself did for so long: carefully crossing out every work-related element of my business card before handing it out at parties. What we all need, clearly, is what I like to call a "personal card."
As Rob likes to say, Voilà!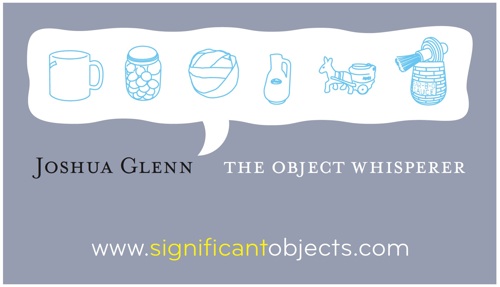 Many, many thanks to Mr. Ludacer for his excellent work.