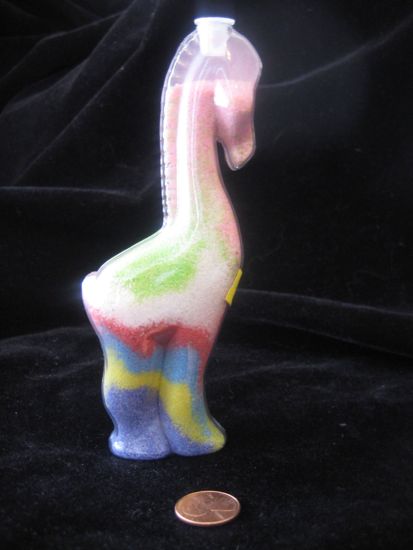 [The auction for this Significant Object, with story by Sloane Crosley, has ended. Original price: 99 cents. Final price: $57.66.]
Alec Baldwin never had a Bar Mitzvah. The non-fact of this, the bloated lack in the calendar of his mind, haunted him. How could he be a sterling example of manhood to little Billy, Danny and Stevie if he wasn't even a man himself?
Then, in 2002, Alec attended the International Conference of Music and Theatre in Chicago, Illinois where the keynote speaker was one Michael Jackson. The conference, previously held in The Drake hotel, had moved to the Marriott. But Alec, who had ignored e-mails regarding the venue change, showed up at The Drake.  Furious, he called his then-4-year-old daughter just to bitch about the situation.  That's when he heard someone shout his name. It was Michael Jackson himself.
Michael too had gotten the right address wrong. Or the wrong address right.  He urged Alec to join him in the bar, where they ordered sidecars and a ramekin of Kahlua for Michael. The two men, as they would come to find out over the next few hours, both turned 13 in 1971.  As celebrities do, they kinda sorta knew each other from being famous. Though one was more so than the other.  In 1971, Jackson went solo.  In 1971, Baldwin walked to the 7-11, got a Slurpee, and drank it while doing his homework.
As the night stretched on, it came out that Michael had also never been Bar Mitzvahed. He also wasn't Jewish, a fact which saddened Michael almost as much as it did Alec.
"Let's do it tonight," said Michael, dipping his pinky into the Kahlua and sucking on it, "let's have a joint, belated Bar Mitzvah. I can arrange for us to have a rabbi and a caricaturist here in 10 minutes."
"Tonight?" chuckled Alec. "Who's bad?" He shook his head.
In the end, they compromised. If they couldn't have an actual Bar Mitzvah, they at least wanted the trappings. Maybe a sombrero or a pair of boxers that read "I Danced My Pants Off At Michael & Alec's Bar Mitzvah!" They journeyed to the gift shop, and found exactly what they were looking for: A whole shelf of rainbow sand-filled horses. Beautiful plastic stallions with long necks that reached above the snow globes and miniature Sears Towers. They each bought one and took them outside.
"Now what?" said Alec.
"Now," said Michael, unscrewing the cap of his rainbow steed, "we write two things on slips of paper: our hopes and dreams and how we think we're going to die."
"Isn't that three things?"
"And then we put the paper in this horse and shake it down to the middle and bury it in our backyards, and say a Jewish prayer when we do."
"Jesus, you've really thought this out."
"It's just how my mind works," said Michael, ripping a piece of scrap paper from his day planner.
He borrowed a pen from the doorman, which Alec kept. Alec finished first.
"Caught on your hopes and dreams, huh?" said Alec.
"No," Michael scribbled solemnly, "it's just that I know exactly how I'm going to die and I want to get every detail in there."
And so they shook their notes into the sand and parted ways, promising to bury their horses.  Which Alec did as soon as he got home. But Michael, whose motivations were more about a good party than a spiritual reckoning, completely forgot about the entire episode. He wasn't even unpacking his own suitcase by this time.  A Neverland butler took the sand horse down to the basement, and threw it in a cardboard box marked "MICHAEL'S RANDOM CRAP."
There it sat for 7 years, gathering dust. I know, it was in a box. But whatever, there was dust. It's a big house to clean. The sand horse was not among the pricey Access Hollywood-exposed gems of the Neverland auction. It was simply overlooked. This is not only a beautiful specimen of kitsch, but it contains the hopes, dreams, and death visions of Michael Jackson. The sand, it should be noted, has never been poured out.