In the months before we published the 100th story in our Significant Objects experiment, many of you clicked on an author's name — in the Contributors list, at the right-hand side of this page — and found yourself directed to an Object Coming Soon page. The page announced: "We haven't posted this particular object, and its associated story, yet. But we will soon!" The following photo, taken in my living room, illustrated the Object Coming Soon page: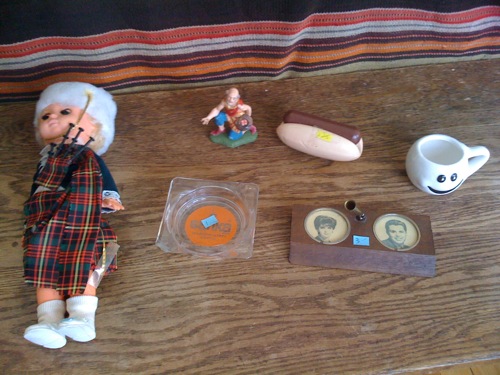 The stuff shown in this photo was collected one day in April 2009, at a thrift store in the Boston neighborhood of Roslindale, at a time when Rob and I were still figuring out the guidelines for what sorts of objects to purchase for the Significant Objects experiment. We didn't always follow our own guidelines, but they went something like this:
* The object shouldn't cost us more than $3.

* No furniture, clothing, or other stuff that doesn't seem sufficiently object-like. Should be something you can hold in the palm of your hand, something that can be displayed on a bookshelf or mantelpiece. Should photograph well, and be easy to ship (i.e., not too heavy).

* Not too many examples of midcentury-thru-1980s pop culture ephemera — or else, after a certain point, the experiment will start to look a kitsch collection, or an exercise in nostalgia. Not too many toys, novelty items, or promotional items, for the same reason.

* Not too many travel souvenirs — because the significance of souvenirs is all too obvious. (Of course, a writer can invent counterintuitive significance for a travel souvenir.) And no art, whether "fine," "bad," "outsider," or "readymade." Why? Because an art object isn't merely an object, it's an object intended to be significant, meant to be interpreted. Which takes the fun out of our project.

* Not too many dolls, or figurines (human or animal), because anything with a face is an obvious magnet for significance-investment.
Every single object shown in the photo above flouts one of our guidelines. The Sanka Ashtray (the very first story we published) is a promotional item. The Pen Stand is an example of midcentury pop culture ephemera (sort of). The Smiling Mug (which became an emblem of the experiment, after numerous bloggers writing about Significant Objects used it as an illustration) is a novelty item. The Toy Hot Dog is a toy. And the Kneeling Man Figurine is a human figurine. Oh, well. Nobody's perfect.
But what you really want to know is: What about that Scottish Doll? It never went up for sale at all! Fair enough. Here's the deal: nobody wanted to write about it. We offered it to at least a dozen writers, and got no takers. Why? Perhaps because it's (a) midcentury pop culture ephemera, (b) a toy, (c) a travel souvenir, and (d) a doll. That is to say, it's just too laden with pre-made significance; it would require a herculean effort to write something interesting about it. Maybe. We'll never know, I guess, because a few months ago I got sick of looking at the damn thing and threw it into the garbage.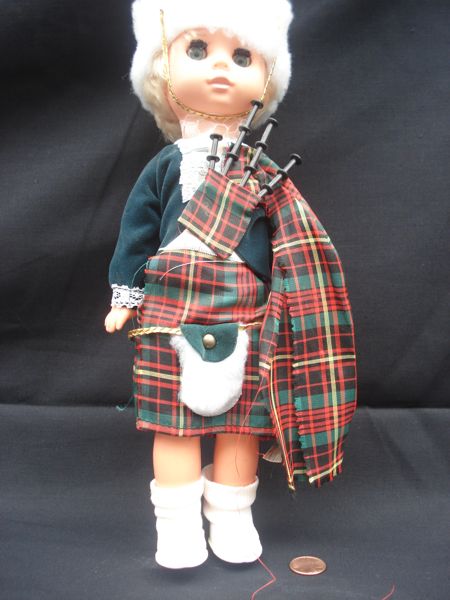 Via a poem by Robert Burns, let us now bid farewell to the Scottish Doll:
Farewell, dear friend ! may guid luck hit you,
And, 'mang her favorites admit you!
If e'er Detraction shone to smit you,
May nane believe him.
And ony De'il that thinks to get you,
Good Lord deceive him.