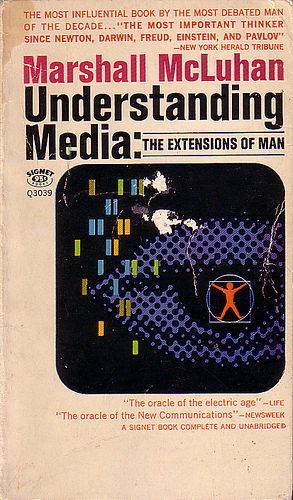 In Marshall McLuhan's pioneering 1964 study, Understanding Media, the Canadian philosopher, literary critic, and communication theorist argued that "hot" media don't require much work on our part when it comes to determining meaning; "cool" media, however, require us to participate more consciously in that effort. "Hot" media are more sequential, linear, and logical than "cool" media, which require us to be a little/lot more creative when it comes to "connecting the dots," i.e., into constellations.
What if we coded each story from Significant Objects v1 as tending to be "hot" or "cool"? (I say "tending to be be," because McLuhan was careful to note that "hot" and "cool" are not dichotomous terms, in his analysis; instead, they exist on a continuum.) In other words, might we discover that "hot" stories made an object more significant than "cool" ones, or vice versa? And what if we also factored in the object/story categories we've identified — i.e., is a "hot fossil" more or less significant than a "cool" one? I'm sure you've wondered precisely the same thing, readers.
Well, wonder no longer! After the jump, you'll find our brand-new "hot"/"cool" table. We've linked to a few of the stories, so you can get a sense of which ones we considered "hot" or "cool." In short, if the reader is informed more or less straight out what the object's significance is, then the story is "hot." If the reader is required to participate consciously in determining the object's significance, then the story is "cool." (NB: A close description of an object's function, appearance, or history isn't necessarily a "hot" narrative; a "hot" narrative is one in which the meaning of the object, for the story's protagonist or narrator, is explicitly stated.) As noted, "hot"/"cool" is a continuum; if you disagree with the way we've categorized the object/stories, please let us know.
Here's the table. What do you think? Notice any obvious patterns in the data?
| Category | Rank (adj.) | Object | Hot/Cool |
| --- | --- | --- | --- |
| Talisman | 1 | Russian Figure | Cool |
| Talisman | 2 | Indian Maiden | Cool |
| Evidence | 3 | Wooden Animal | Hot |
| Fossil | 4 | "Hawk" Ashtray | Hot |
| Totem | 5 | Pink Horse | Hot |
| Talisman | 6 | Metal Boot | Cool |
| Fossil | 7 | 4-Tile | Hot |
| Fossil | 8 | Cape Cod Shoe | Hot |
| Fossil | 9 | Duck Tray | Hot |
| Talisman | 10 | Wooden Mallet | Cool |
| Evidence | 11 | Fish Spoons | Cool |
| Evidence | 12 | Fake Banana | Cool |
| Fossil | 13 | Cow Vase | Cool |
| Totem | 13 | Missouri Shotglass | Hot |
| Talisman | 15 | Kneeling Man Figurine | Hot |
| Talisman | 16 | Rhino Figurine | Cool |
| Evidence | 17 | Rainbow Sand Animal | Cool |
| Fossil | 18 | Meat Thermometer | Cool |
| Talisman | 18 | Idol | Cool |
| Fossil | 20 | Felt Mouse | Hot |
| Totem | 21 | Bird Figurine | Cool |
| Evidence | 22 | Ziggy Heart | Cool |
| Evidence | 23 | Geisha Bobblehead | Cool |
| Evidence | 23 | BBQ Sauce Jar | Cool |
| Totem | 25 | Ireland Cow Plate | Hot |
| Fossil | 26 | Necking Team Button | Hot |
| Fossil | 27 | Rope/Wood Monkey Figurine | Hot |
| Fossil | 28 | Rooster Oven Mitt | Hot |
| Fossil | 29 | Motel Room Key | Cool |
| Evidence | 30 | Jar of Marbles | Cool |
| Fossil | 31 | Smiling Mug | Cool |
| Evidence | 32 | Marines (Upside-Down) Logo Mug | Cool |
| Fossil | 33 | Maine Statutes Dish | Cool |
| Fossil | 33 | Halston Mug | Cool |
| Fossil | 35 | Seahorse Lighter | Hot |
| Talisman | 36 | Hand-Held Bubble Blower | Cool |
| Evidence | 36 | Creamer Cow | Cool |
| Talisman | 36 | JFK Bust | Cool |
| Evidence | 39 | Mr. Pickwick Coat Hook | Cool |
| Fossil | 39 | Round Box | Hot |
| Fossil | 41 | Amoco Yo-Yo | Hot |
| Talisman | 42 | Miniature Bottle | Cool |
| Fossil | 42 | Penguin Creamer | Hot |
| Evidence | 44 | Cigarette Case | Cool |
| Totem | 45 | Chili Cat Figurine | Hot |
| Fossil | 46 | Alien Toy | Hot |
| Evidence | 47 | Ocean Scene Globe | Cool |
| Fossil | 47 | Unicorn | Hot |
| Evidence | 49 | Crumb Sweeper | Cool |
| Talisman | 50 | Praying Hands | Cool |
| Fossil | 50 | Elvis Chocolate Tin | Hot |
| Evidence | 52 | Sanka Ashtray | Cool |
| Talisman | 53 | Tin Ark | Hot |
| Evidence | 54 | Windsurfing Trophy/Statue | Cool |
| Fossil | 55 | Pabst Bottle Opener | Cool |
| Fossil | 56 | Spotted Dogs Figurine | Hot |
| Evidence | 56 | Santa Nutcracker | Cool |
| Fossil | 58 | Foppish Figurine | Hot |
| Evidence | 59 | Kitty Saucer | Cool |
| Totem | 60 | Piggy Bank | Cool |
| Totem | 60 | Mule Figurine | Cool |
| Talisman | 62 | Troll Nutcracker | Cool |
| Fossil | 62 | Grain Thing | Hot |
| Talisman | 64 | Dome Doll | Cool |
| Fossil | 65 | Popsicle-Stick Construction | Hot |
| Evidence | 65 | Golf Ball Bank | Cool |
| Evidence | 67 | Blue Vase | Cool |
| Talisman | 68 | Candyland Labyrinth Game | Cool |
| Fossil | 68 | Pen Stand | Hot |
| Evidence | 68 | Military Figure | Cool |
| Talisman | 71 | Dilbert Stress Toy | Hot |
| Fossil | 72 | Uncola Glass | Hot |
| Evidence | 72 | Choirboy Figurine | Cool |
| Evidence | 74 | Star of David Plate | Cool |
| Fossil | 75 | Lighter Shaped Like Small Pool Ball | Cool |
| Fossil | 76 | Device | Cool |
| Fossil | 76 | Cracker Barrel Ornament | Hot |
| Fossil | 76 | Sea Captain Pipe Rest | Hot |
| Totem | 76 | "Hakuna Matata" Figurine | Hot |
| Talisman | 76 | Ornamental Sphere | Cool |
| Fossil | 81 | Cat Mug | Hot |
| Talisman | 82 | Wave Box | Cool |
| Talisman | 83 | Toy Toaster | Hot |
| Talisman | 84 | Flip-Flop Frame | Hot |
| Evidence | 85 | Thai Hooks | Cool |
| Fossil | 85 | Small Stapler | Hot |
| Talisman | 87 | Duck Vase | Cool |
| Fossil | 88 | Fred Flintstone Pez Dispenser | Hot |
| Evidence | 89 | Basketball Trophy | Cool |
| Talisman | 90 | Toy Hot Dog | Hot |
| Evidence | 91 | Umbrella Trinket | Cool |
| Evidence | 92 | Toothbrush Holder | Cool |
| Fossil | 93 | Coconut Cup | Hot |
| Fossil | 94 | Swiss Medal | Hot |
| Fossil | 95 | #1 Mom Hooks | Hot |
| Talisman | 96 | Clown Figurine | Cool |
| Evidence | 97 | Kentucky Dish | Cool |
| Fossil | 98 | Porcelain Scooter | Hot |
| Fossil | 99 | Hawaiian Utensils | Hot |
| Evidence | 100 | Bar Mitzvah Bookends | Cool |