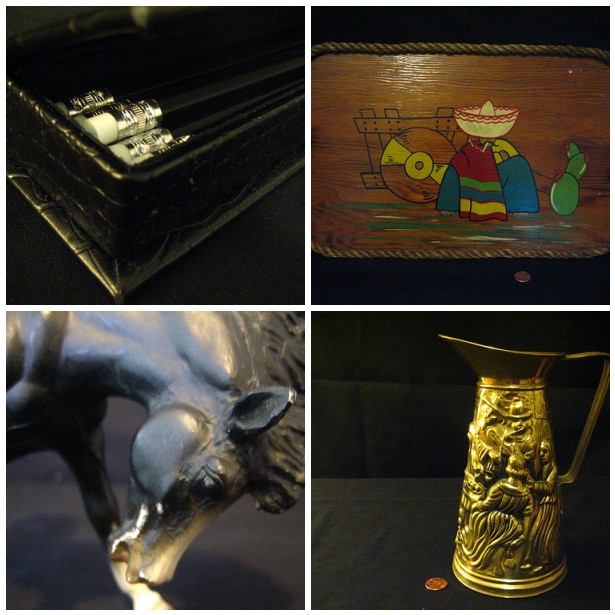 A request came in to make this available in one easy-to-access post/link. Here it is. This is our unprecedented four-part, four-object, four-auction story. This is an incredibly difficult task to pull off, but we got the four members of Kasper Hauser to assemble what we think is a really wonderful extended piece.
Pencil Case + Rob Baedeker Story starts things off, and if you read that you'll discover there are links at the bottom of each installment that will lead you to the next. Part two is Gaucho Tray + James Reichmuth Story, followed by Bronco Toy + Dan Klein Story, and concluding with "Brass" Pitcher + John Reichmuth Story. I love the way the pieces work together, and I really think they benefit from being read sequentially — to me, they've gotten better on each read-through. And I have to say, this kind of crazy, "can it be done?" experimentation is what makes S.O. worthwhile to me. So I hope you agree. And I really want to say a public thanks to the KH guys for taking this up.
There are some interesting questions, of course, about how this strategy might affect bidding. We'll address those when it's over. All I'll say for now is: Remember, proceeds benefit Girls Write Now.