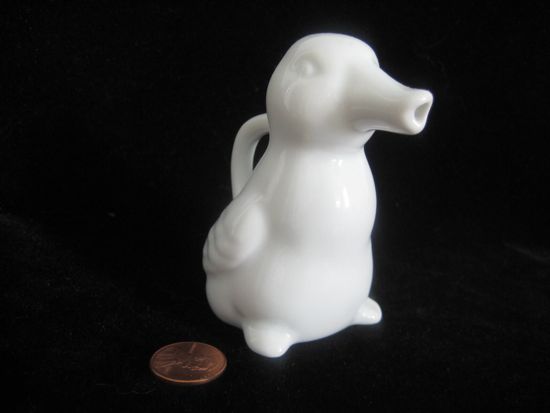 [The auction for this Significant Object, with story by Sari Wilson, has ended. Original price: $3. Final price: $31.]
It's incongruous. The buttery finish, the fluted spout, the air hole in the back of its head offering a peek into its ceramic innards, a glimpse of the thick cream that no one is supposed to have anymore. The torso pitched forward, the nubs of wings lifting, ready to employ itself in the service of our morning coffee. Except that neither of us drank coffee. No matter. We kept that creamer on our table for years. When we did start drinking coffee, we bought it at Starbucks in tall cups and we didn't even take milk in it.
Where did the creamer come from? Neither of us could remember. Maybe one of those estate sales we sometimes drove out to on Saturdays? For whatever reason, we adopted it. A Balinese sarong covered our rickety table. Then a Crate and Barrel linen cloth. Then we bought a new fancy table—an eight-seater, tavern-style.
Through all those years—our ambitious, job-hopping 20s—the creamer was like a mascot. When we were both promoted to V.P., we bought it a general's cap. We put sake in it. We treated it with the scornful irony we began to feel for each other. The creamer sat there,  this patient, eyeless homunculus, watching us as we began to argue about stupid things like who would take out the garbage, how much to tip the delivery man, then louder and more forcefully, about real-like stuff. What we wanted. The future. It turned out that I was a Republican and wanted a bunch of kids. He was a Democrat and didn't want any. One night he grabbed the penguin creamer off the table and said, "What the hell is this?" As if he'd never seen it before. I almost said, "It's our baby."
When I moved out I took that orphaned creamer but left everything else. It sits on the red-checked oilcloth covering my bistro table. My new boyfriend pours cream from its spout and says, "Cute little guy."