Our experiment has answered the question of whether narrative adds measurable value to near-worthless tchotchkes with an emphatic YES. But how does narrative do so? Is every form of narrative exposition, for example, equally effective in encouraging the reader to regard a thrift-store castoff as somehow meaningful?
Apparently not. We've determined that in the 100 stories we published as part of Significant Objects volume 1, three types of exposition are employed. One of these three expository stratagems, according to the chart following after the jump, is particularly effective at investing insignificant objects with significance.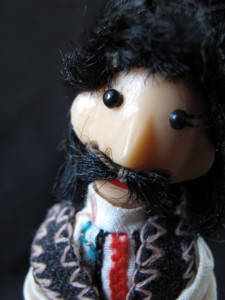 DESCRIPTION: Over the course of the narrative, peculiarly and uniquely significant characteristics and features (exclusive of use or function) are attributed to the object. Examples:
"Russian Figure": In Doug Dorst's story, we read that "effigies of St. Vralkomir may come to life and begin dancing, throwing sparks from their wooden pedestals."
"Smiling Mug": Ben Greenman's story claims that a surrealist sculptor designed the mug to "like a face, of course, because a face is the only thing that is capable of smiling (or is it?), but it also looks like a tooth, because a tooth is the only thing that is capable of showing when a face is smiling."
"Duck Vase": The narrator of Matthew Klam's story notes: "If you decide to keep it by your bed (as I did) and begin seeing colorful lights reflected on the walls and windows as you try to sleep, DO NOT WORRY AS THE OBJECT IS OPERATING NORMALLY."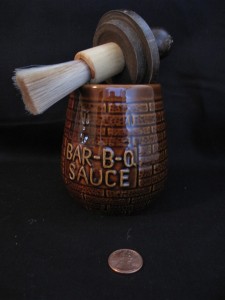 SEQUENCE: From the narrative, we learn about the object's role in an event or sequence of events meaningful to the narrator/protagonist or reader.
"BBQ Sauce Jar": Matthew J. Well's story claims the jar was used for a "blood-soaked shave" by Harry Thaw in 1908, the night before his murder trial.
"Uncola Glass": Jen Collins tells a story from the perspective of a woman whose father abandoned her family when she was 13. "When I got home after track practice that night, my mother told me my father wasn't coming back. 'He left you a present,' she said. 'An abandonment present? Is that customary? No thanks.'"
"Crumb Sweeper": When the narrator of Shelley Jackson's story first meets her future lover, he's brushing hairs from his clothes with this item.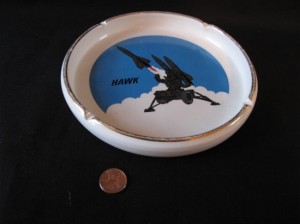 CLASSIFICATION: During the course of the narrative the object's use, function, origin, or else its symbolic meaning, is revealed to be particularly fraught.
"'Hawk' Ashtray": The narrator of William Gibson's story claims that Pentagon technocrats lobby one another, in order to get new weapons into development, by manufacturing and distributing promotional items like this one.
"Maine Statutes Dish": The narrator of Ben Katchor's story would have us believe that the dish, intended for peanuts, was "meant to encourage lawyers and public advocates to acquaint themselves with the latest revisions to state law," and that in fact each chapter was keyed to an estimated number of peanuts.
"Missouri Shotglass": A character in Jonathan Lethem's story claims that the bird represented on the shotglass symbolizes the fact that Missouri is "one vast harrowed and furrowed MFA workshop."
Those are the strategies. Which one shows evidence of offering the most significant value-creating payoff, according to our results? The chart is below.
As you can see, SEQUENCE was the most effective form of exposition when it came to encouraging readers to bid on the stories' objects. Eleven of the experiment's Top 25 objects were made significant via sequence, ten via classification, and four via description. (In the Top 10, though, classification edges out sequence.)
However! Mimi Lipson might point out that sequence is the most heavily represented exposition-type in the sample as a whole (58/100), followed by classification (30/100), and then description (12/100). So perhaps the values of these variables were skewed. Ought we instead to look at the sum of the probability of each possible outcome of the experiment multiplied by its payoff ("value")? Hmmm.
Also: Did we assign exposition-types properly? Was this exercise a useful one? Give us some feedback, readers.
| Rank (adj.) | Object | Exposition Type | Author |
| --- | --- | --- | --- |
| 1 | Russian Figure | Description | Doug Dorst |
| 2 | Indian Maiden | Sequence | R.K. Scher |
| 3 | Wooden Animal | Sequence | Meg Cabot |
| 4 | "Hawk" Ashtray | Classification | William Gibson |
| 5 | Pink Horse | Description | Kate Bernheimer |
| 6 | Metal Boot | Classification | Bruce Sterling |
| 7 | 4-Tile | Classification | Toni Schlesinger |
| 8 | Cape Cod Shoe | Sequence | Sheila Heti |
| 9 | Duck Tray | Classification | Stewart O'Nan |
| 10 | Wooden Mallet | Classification | Colson Whitehead |
| 11 | Fish Spoons | Sequence | Mark Doty |
| 12 | Fake Banana | Sequence | Josh Kramer (Center for Cartoon Studies) |
| 13 | Cow Vase | Sequence | Ed Park |
| 13 | Missouri Shotglass | Classification | Jonathan Lethem |
| 15 | Kneeling Man Figurine | Classification | Glen David Gold |
| 16 | Rhino Figurine | Description | Nathaniel Rich |
| 17 | Rainbow Sand Animal | Sequence | Sloane Crosley |
| 18 | Meat Thermometer | Classification | Nicholson Baker |
| 18 | Idol | Sequence | Andrew Ervin |
| 20 | Felt Mouse | Sequence | Meghan O'Rourke |
| 21 | Bird Figurine | Description | Sung J. Woo |
| 22 | Ziggy Heart | Classification | Todd Levin |
| 23 | Geisha Bobblehead | Sequence | Edward Champion |
| 23 | BBQ Sauce Jar | Sequence | Matthew J. Wells (Slate Contest Winner) |
| 25 | Ireland Cow Plate | Classification | Sarah Rainone |
| 26 | Necking Team Button | Classification | Susannah Breslin |
| 27 | Rope/Wood Monkey Figurine | Sequence | Kevin Brockmeier |
| 28 | Rooster Oven Mitt | Classification | Victor LaValle |
| 29 | Motel Room Key | Classification | Laura Lippman |
| 30 | Jar of Marbles | Classification | Ben Ehrenreich |
| 31 | Smiling Mug | Description | Ben Greenman |
| 32 | Marines (Upside-Down) Logo Mug | Classification | Tom Vanderbilt (Design Observer) |
| 33 | Maine Statutes Dish | Classification | Ben Katchor |
| 33 | Halston Mug | Classification | Mimi Lipson |
| 35 | Seahorse Lighter | Classification | Aimee Bender |
| 36 | Hand-Held Bubble Blower | Classification | Myla Goldberg |
| 36 | Creamer Cow | Sequence | Lucinda Rosenfeld |
| 36 | JFK Bust | Description | Annie Nocenti |
| 39 | Mr. Pickwick Coat Hook | Sequence | Christopher Sorrentino |
| 39 | Round Box | Sequence | Tim Carvell |
| 41 | Amoco Yo-Yo | Sequence | Mark Sarvas |
| 42 | Miniature Bottle | Sequence | Mark Frauenfelder |
| 42 | Penguin Creamer | Classification | Sari Wilson |
| 44 | Cigarette Case | Sequence | Margot Livesey |
| 45 | Chili Cat Figurine | Classification | Lydia Millet |
| 46 | Alien Toy | Classification | Nomi Kane (Center for Cartoon Studies) |
| 47 | Ocean Scene Globe | Classification | Stephanie Reents |
| 47 | Unicorn | Sequence | Sarah Weinman |
| 49 | Crumb Sweeper | Sequence | Shelley Jackson |
| 50 | Praying Hands | Description | Rosecrans Baldwin |
| 50 | Elvis Chocolate Tin | Classification | Jessica Helfand (Design Observer) |
| 52 | Sanka Ashtray | Sequence | Luc Sante |
| 53 | Tin Ark | Classification | Rebecca Wolff |
| 54 | Windsurfing Trophy/Statue | Classification | Naomi Novik |
| 55 | Pabst Bottle Opener | Sequence | Sean Howe |
| 56 | Spotted Dogs Figurine | Sequence | Curtis Sittenfeld |
| 56 | Santa Nutcracker | Sequence | Kurt Andersen |
| 58 | Foppish Figurine | Description | Rob Baedeker |
| 59 | Kitty Saucer | Classification | James Parker |
| 60 | Piggy Bank | Description | Matthew De Abaitua |
| 60 | Mule Figurine | Description | Matthew Sharpe |
| 62 | Nutcracker with Troll Hair (or something) | Sequence | Adam Davies |
| 62 | Grain Thing | Description | Joanne McNeil |
| 64 | Dome Doll | Sequence | Jason Grote |
| 65 | Popsicle-Stick Construction | Sequence | Sara Ryan |
| 65 | Golf Ball Bank | Sequence | Todd Pruzan |
| 67 | Blue Vase | Sequence | Lauren Mechling |
| 68 | Candyland Labyrinth Game | Sequence | Matthew Battles |
| 68 | Pen Stand | Classification | Lizzie Skurnick |
| 68 | Military Figure | Classification | David Shields |
| 71 | Dilbert Stress Toy | Description | Betsey Swardlick (Center for Cartoon Studies) |
| 72 | Uncola Glass | Sequence | Jen Collins |
| 72 | Choirboy Figurine | Sequence | J. Robert Lennon |
| 74 | Star of David Plate | Sequence | Adam Harrison Levy (Design Observer) |
| 75 | Lighter Shaped Like Small Pool Ball | Sequence | Rob Agredo (SmithMag Contest Winner) |
| 76 | Device | Classification | Tom Bartlett |
| 76 | Cracker Barrel Ornament | Classification | Maud Newton |
| 76 | Sea Captain Pipe Rest | Classification | Michael Atkinson |
| 76 | "Hakuna Matata" Figurine | Classification | Jennifer Michael Hecht |
| 76 | Ornamental Sphere | Classification | Charles Ardai |
| 81 | Cat Mug | Classification | Thomas McNeely |
| 82 | Wave Box | Classification | Teddy Wayne |
| 83 | Toy Toaster | Classification | Jonathan Goldstein |
| 84 | Flip-Flop Frame | Description | Merrill Markoe |
| 85 | Thai Hooks | Sequence | Bruno Maddox |
| 85 | Small Stapler | Sequence | Katharine Weber |
| 87 | Duck Vase | Description | Matthew Klam |
| 88 | Fred Flintstone Pez Dispenser | Description | Claire Zulkey |
| 89 | Basketball Trophy | Sequence | Cintra Wilson |
| 90 | Toy Hot Dog | Classification | Jenny Davidson |
| 91 | Umbrella Trinket | Sequence | Bruce Holland Rogers |
| 92 | Toothbrush Holder | Sequence | Terese Svoboda |
| 93 | Coconut Cup | Sequence | Annalee Newitz |
| 94 | Swiss Medal | Sequence | Kathryn Borel Jr. |
| 95 | #1 Mom Hooks | Sequence | Rachel Berger (Design Observer) |
| 96 | Clown Figurine | Description | Nick Asbury |
| 97 | Kentucky Dish | Sequence | Dean Haspiel |
| 98 | Porcelain Scooter | Sequence | Teddy Blanks (Design Observer) |
| 99 | Hawaiian Utensils | Sequence | Stephen Elliott |
| 100 | Bar Mitzvah Bookends | Sequence | Stacey Levine |